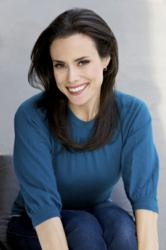 Easton, MD (PRWEB) February 06, 2013
According to The National Fiber Council, getting just 7 grams of soluble fiber per day from psyllium may reduce the risk of developing coronary heart disease. Nationally recognized nutrition expert Keri Glassman is joining forces with the number one doctor-recommended, all-natural psyllium fiber supplement, Konsyl, to help spread the word to people about soluble fiber's heart health benefits.
"Coronary Heart Disease is the leading cause of death in this country, however it can be prevented with healthy lifestyle adjustments including a healthier diet," explains Glassman, MS, RD, CDN. "A diet low in saturated and trans fat and filled with fiber rich foods like whole grains, vegetables and legumes, supplemented with a fiber supplement like Konsyl will help to lower or maintain cholesterol levels and keep your heart healthy."
Coronary Heart Disease (CHD) is the condition where a buildup of plaque in the coronary arteries can create a blockage and cause a heart attack. Soluble fiber, like that found in Konsyl Psyllium Fiber, reduces low density lipoprotein (LDL) or "bad" cholesterol levels by binding to the cholesterol and increasing its' elimination from the body.
"A fiber supplement like Konsyl Original Formula is ideal for people who need to add more soluble fiber to their diet to lower cholesterol without adding unwanted calories. In addition to reducing cholesterol levels, soluble fiber also slows digestion and will make you feel fuller longer, which can help curb cravings and manage weight," adds Glassman.
Konsyl Original Formula is made of 100% psyllium, an all-natural type of soluble fiber that is derived from plants, and is gluten free with no sugar or sugar substitutes. Konsyl Original Formula has 75% more fiber per serving than other leading brands, with 6 grams of psyllium fiber (equal to 3 grams of soluble fiber) in just one serving.
Learn more about Konsyl and heart health in this webisode: http://www.youtube.com/watch?v=XN_MxE6eF8o or online at http://www.konsyl.com. To coordinate an interview with Keri Glassman, please contact Leesa Raab, leesa(at)adinfinitumny(dot)com, 212.693.2150 x314 or Lauren Verini, lauren(at)adinfinitumny(dot)com, 212.693.2150 x311.
About Konsyl
Headquartered in Easton, MD, the Konsyl Brand has been around for over 75 years. Konsyl is the number one doctor-recommended, all-natural psyllium fiber supplement. Konsyl Original and Konsyl Easy Mix psyllium fiber products are all natural, gluten-free and contain no sugar or sugar substitutes. Konsyl is safe for celiac patients, diabetics and pregnant and nursing mothers. Learn more at http://www.Konsyl.com.
About Keri Glassman, MS, RD, CDN
Keri Glassman is a nationally recognized nutrition expert, founder and president of Nutritious Life, a nutrition practice based in New York City and author, including her recently released, The New You and Improved Diet: 8 Rules to Lose Weight and Change Your Life Forever. For years Keri has been a leader in advancing a "whole person" approach to health and wellness. She has dedicated her career to creating services and promoting education through her "Nutritious Life" brand. Learn more about Keri Glassman at http://www.NutritiousLife.com