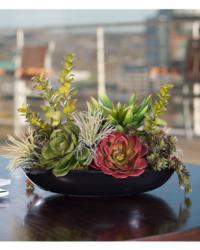 Succulents are tranquil, earthy and very unique from other botanicals. They add an interesting, distinct flair to any decor.
White Plains, NY (PRWEB) February 06, 2013
With succulent plants gaining strength as a design trend, Silkflowers.com is pleased to expand its amazingly lifelike collection of these popular ornamental botanicals.
New to the collection are the chic Succulent Accent ($99), a mix of echeveria, jade, aloe and sedum atop layers of moss and gravel in a 4-inch glass cube, and the Succulent and Orchid Terrarium ($129), echeveria and dendrobium orchids escaping from a 10-inch tall glass vase with cane, grass, tillandsia and moss anchored in earthy pebbles. Succulents also accent the impressive new Magnolia Masterpiece ($599), a 70-inch tall arrangement of green flora (forest and feather ferns, cycas and yucca, prairie and wild grass), magnolia blooms, a blend of artificial woods, and green amaranthus.
"Succulents are tranquil, earthy and very unique from other botanicals," Tim Hennessy, co-founder of Silkflowers.com, said. "They add an interesting, distinct flair to any décor. With succulents from Silkflowers.com, you'll enjoy maintenance-free beauty that lasts for years to come."
Returning favorites of Silkflowers.com succulents include the stunning Yucca & Grass Tabletop Centerpiece ($199), a blend of deluxe yucca plants, podocarpus, mixed grasses and succulents combined in an 8-inch square wood tone resin planter, and the eye-catching Succulent Dish Garden and Succulent Planter, both $149 and creative arrangements of echeveria, jade, aloe and sedum combined in an earthy blend of green and brown hues, highlighted with burgundy.
To view the entire succulents collection, visit http://www.silkflowers.com/realistic-succulent-plants.
All products purchased from Silkflowers.com are shipped directly to recipients' doorsteps and expertly packaged to arrive in perfect shape for easy display right out of the box (unlike fresh cut flowers that are often dead by the time they arrive). If they're a gift, they're adorned with a stylish card that may be personalized with a message of choice.
For more information and high resolution photography visit http://www.silkflowers.com/pressroom. The company is also on Facebook and Twitter and it has an up-to-date, informative blog, http://blog.silkflowers.com.
Silkflowers.com is the nation's largest supplier of designer-quality silk botanicals, including floral arrangements, decorative stems, plants and trees. The company proudly offers the widest selection and inventory of beautifully designed silk creations at affordable prices, delivered directly to consumers with utmost care. Silkflowers.com's sister company, OfficeScapesDirect (http://www.officescapesdirect.com), serves the commercial market in the same manner, offering the widest selection anywhere of designer-quality silk botanicals for business interiors and commercial spaces. Both companies are located in Cincinnati, Ohio, and White Plains, N.Y.