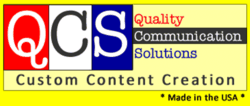 What good is any marketing tool if the price to use it is prohibitive?
Johnston, Iowa (PRWEB) February 06, 2013
In the present state of the economy, it not just small businesses that have to watch their marketing budgets. Large companies have tightened their belts as well to make sure they maximize social media marketing results at the lowest possible cost. Quality Communication Solutions (QCS) has developed one of the best social media marketing plans (Twitter posts specifically) to help everyone from individuals to corporations.
There are really 2 major hurdles to overcome when making the determination to use social media marketing as part of an overall marketing plan. First, the decision must be made that it is now time to engage this valuable marketing tool. This is a small hurdle to overcome and the evidence is overwhelming that to ignore social media marketing leads to placing a major stumbling block in front of prospecting and business growth. Second, the larger hurdle of affordability is a bit more difficult to overcome.
Price is a major factor in the determination whether or not to take the social media plunge to any serious extent. Steven R Brown, Founder and CEO of Quality Communication Solutions has raised an important question: "What good is any marketing tool if the price to use it is prohibitive?" Thus, a competitive price is essential to avoid throwing hard earned dollars out the window.
Value added social media marketing is the only way to go these days. That additional value should come in terms of custom crafted tweets that provide quality information to prospective customers with no strings attached while at the same time generating enough interest to get paying visitors to your website or business. QCS not only guarantees appropriate matches to specific content needs, they also provide a specific number of quality Twitter Followers per purchased amount of tweets per month.
There are several pitfalls that need to be avoided when looking at any social media marketing services. 1. A high or inflated charge for the services received does not guarantee positive results. 2. Large company "cookie cutter" approaches do not always work the best for individual needs. 3. Not demanding individualized attention will lead to poor results. 4. Long-term contracts should be avoided at all costs.
While converting viewers of social media marketing into buyers is the ultimate goal of any marketing program, other benefits should not be ignored. It is important to: (A) Establish credibility; (B) Create and Strengthen Trust; (C) Generate interest; and, (D) Engage as many people as possible in mutually beneficial dialog. If these important goals are not achieved and a viable and credible foundation of a relationship is not established prior to trying to sell, there will be no sales.
Social media marketing is a major way to expand any business or service. Any entity that is not expanding and growing and thriving will find itself shrinking and dying. Do not break the bank with social media marketing efforts, but at the same time get every benefit possible out the money that goes into any plan.
QCS is retooled, revamped, and ready to charge ahead with all of your social medial marketing needs. What a difference a year can make.