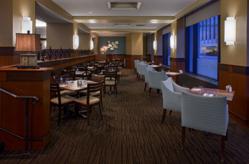 Denver, CO (PRWEB) February 05, 2013
Although it has only been open for a few months, Pub 17 on Welton Street, located at one block from downtown Denver's 16th Street Mall at 17th and Welton, is the recipient of an Editors' Pick Award from Sunset Magazine. The prestigious travel publication chose Pub 17 noting it as a place where you can find Colorado's "most exciting craft beers under one roof". Located in the 4-Diamond downtown Denver hotel, Grand Hyatt Denver, according to Sunset, Pub 17 guests find "affordable pours of specialties like Avery Brewing's Reverend as well as 50+ other Colorado labels." The restaurant also features "Hoptails" (cocktails made with beer), the Original Rocky Mountain Mule and more.
With the pioneer spirit clearly evident, Pub 17 serves up a bounty of Colorado locally grown produce, artisan cheeses and premium meats. Guests are invited to stay inside their comfort zone with a selection of expertly prepared traditional foods, such as the piled high Mile High Reuben or Chef de Cuisine Jay Leandro's Mac N' Cheese which changes daily. The menu also allows a venture into the unfamiliar with a Herb Roasted Bone Marrow to name just one. Every signature dish the chef has created is styled to complement the long list of local Colorado microbrews (some with very limited release and difficult to find anyplace else) or an exclusive western slope award-winning vintage. Pub 17's Chef Jay Leandro was acknowledged in October by the Colorado Hotel and Lodging Association with its Emerging Leader of the Year award.
Pub 17 on Welton Street is open daily for breakfast, lunch and dinner. Discounts on appetizers and beverages are available during Happy Hour from 3:00PM – 6:00PM and again from 11:00PM to close. Reservations for Pub 17 may be made by calling (303) 295-1117 or by visiting Opentable.com. Parking is validated for dinner guests. For more information on Pub 17 on Welton Street, including a list of interesting Colorado Beer Facts or to make restaurant reservations on line, visit http://www.Pub17Denver.com.
The opening of Pub 17 on Welton Street in July, 2012, marked the launch of the Grand Hyatt Denver $28 million redesign which is scheduled for completion in Spring 2013. For more information, visit http://www.GrandHyattDenverRedesign.com.
# # #