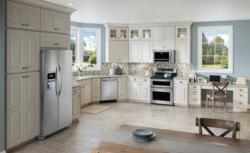 We love everything about this oven. Don't know how we cooked without it before.
Ballwin, MO (PRWEB) February 04, 2013
Internet consumers shopped more for refrigerators than any other type of appliance in 2012, according to online retailer Goedeker's.
In an analysis of 2012 sales, refrigerators hold four of the top ten sold products. The Frigidaire Professional Series 19 cubic foot "All Refrigerator" model FPRH19D7LF closed the year as the most popular product. Its companion piece, the Frigidaire Professional Series 18 cubic foot freezer model FPUH19D7LF also made it into the top five most popular appliances. Together, this stainless steel refrigeration system provides a combined 37 cubic feet of food storage. A third Frigidaire refrigerator, the counter depth, side-by-side FGHC2342LF model, also made it into the top five most popular appliances for 2012.
Customers also turned to Samsung refrigerators in 2012. The 28 cubic foot French door model RF4287HARS and the smaller 17.8 cubic foot counter depth model RF197ACRS round out the refrigerators occupying spots in Goedeker's top ten sales list.
While consumers were divided between Frigidaire and Samsung on their refrigeration preferences, all of the cooking appliances occupying spots in the Top Ten appliances sold in 2012 come from GE Appliances. The two range stoves in this category holding spots in the top ten show consumers trending to double-oven configuration ranges. Two independent baking compartments allow consumers to easily cook and maintain multiple meal options simultaneously. This configuration has proven so popular, one reviewer states, "We love everything about this oven. Don't know how we cooked without it before."
Taking the number two spot in a list of most purchased appliances was the GE Free Standing Gas model CGS990SETSS range. An electric range, the GE Profile model PS978STSS, also measured in within the top ten. Rounding out GE's showing was the 1.7 cubic foot model PVM1790SRSS over-the-range microwave oven.
Finally, Frigidaire was the consumer brand of choice in 2012 for dishwashers, with two 14 place setting dishwashers taking spots in the top ten. While the specifications on each are similar, the Professional series model FPHD2491KF comes equipped with a hard food disposal and the Gallery series model FGHD2465NF provides seven cycles compared to the other's five.
Goedeker's plans to expand its product offering in 2013 with new furniture, appliance, and plumbing brands. New product announcements have already arrived from GE, Frigidaire, Fisher & Paykel, and more, and will be online at Goedekers.com when available.