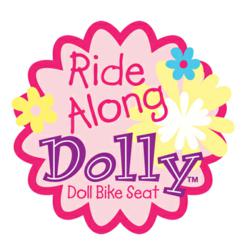 Ride Along Dolly ia a great addition to my granddaughter's bicycle.
Milford, CT (PRWEB) February 06, 2013
Little girls don't want to make a choice between spending time with their best friend and going for a bike ride, and why should they? Ride Along Dolly®, the doll bike seat, allows them to do both. Not only can dolly come along for the ride, but now she'll have a full range of bicycle accessories to match.
The new Ride Along Dolly Bicycle Seat and accessories line includes:

Ride Along Dolly Bike Seat – in pink or purple with fun girl themed do-it-yourself decals
Pinwheel Handlebar Streamers
Bow Handlebar Streamers
Bike Basket with Motion Activated Lights
Bike Pinwheel
Bike Wheel Spokies
Make Your Own Bike Name Plate
One happy customer shared "Ride Along Dolly is a great addition to my granddaughter's new bicycle. She can now take her favorite doll wherever she goes."
The Ride Along Dolly Bike seat installs quickly and easily onto your little girl's favorite bicycle. It fits all standard dolls up to 3 lbs. including American Dolls, Corolle Dolls and most stuffed animals. Each item is sold separately.
Find Ride Along Dolly at Toy Fair International Booth #1765 February 10 – 13, 2013 at the Jacob K. Javits Convention Center or http://www.scsdirectinc.com, facebook.com/ridealongdolly and pinterest.com/ridealongdolly.
About Us
SCS Direct was founded in 1998 to develop innovative products for consumers in the United States and Internationally. SCS employees focus on finding little-known products and ideas; continually tweaking and improving them until they are marketable. Current products include various toys, housewares, electronics, outdoor living and infant care items. SCS Direct is ranked #296 on the 2012 Inc. 500 List of America's Fastest Growing Companies. For more information about SCS Direct's unique line of products call 203.870.4867 or visit http://www.scsdirectinc.com.
###