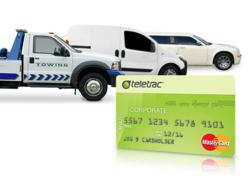 Garden Grove, Calif. (PRWEB) February 05, 2013
Teletrac Inc.®, a 24-year veteran award-winning GPS fleet tracking and telematics software provider, today announced the launch of its new branded fuel card, Teletrac Universal Premium Fleet MasterCard in partnership with FLEETCOR Technologies Operating Company, LLC.
FLEETCOR's integration with Teletrac's Fleet Director® software platform provides the ability to seamlessly manage fuel consumption while safeguarding businesses from fraud and misuse.
"Teletrac's new branded FleetCard amplifies fuel monitoring capabilities in order to reduce company dollars lost through waste and theft," said Drew Hamilton, Executive Vice President, Teletrac.
The card's extensive reporting capabilities allow managers to utilize fleet data in order to regulate fuel consumption and eliminate unauthorized card abuse. Companies can manage their fuel economy by monitoring driver usage and comparing those numbers to other drivers within the fleet.
Users can eliminate fuel purchase abuse by quickly pinpointing incidences where misuse occurred at the gas pump. In addition, users have the capability to view all incidents in which the amount of fuel pumped in a transaction exceeded an assigned vehicle's fuel tank size.
"Teletrac's integrated FleetCard dramatically improves how companies manage their fuel usage through the combination of location data and reporting controls. Businesses have an exciting new opportunity to reduce operational costs by staying mindful of their fuel usage and expenses," Hamilton added.
The exclusive card provides access to over 160,000 fuel locations across the United States.
The Teletrac Universal Premium Fleet MasterCard is the newest addition to the company's Fleet Director software platform, which employs tracking data to help reduce company costs and promote safety, compliance and productivity.
About Fleet Director® and Teletrac Inc.
Already proven and trusted by more than 20,000 fleets of all sizes and tracking more than 200,000 vehicles in 75 countries, Teletrac's Fleet Director software solution saves fleet owners time, money, and reduces their carbon footprint. Teletrac customers report up to 30% lower fuel usage, an average of 15% less driver overtime, 12% higher productivity and less unauthorized vehicle use. To see what customers are saying about Teletrac, visit the Teletrac Reviews page.
Teletrac Inc. is headquartered in Garden Grove, CA. For additional information, visit http://www.teletrac.com, call 1-800-TELETRAC, or contact us via email at: djaconi(at)teletrac(dot)com.
SOURCE: Teletrac Inc.
Disclaimer: The Teletrac Universal Premium Fleet MasterCard is issued by Regions Bank pursuant to a license by MasterCard International Incorporated. MasterCard and the MasterCard Brand Mark are registered trademarks of MasterCard International Incorporated.