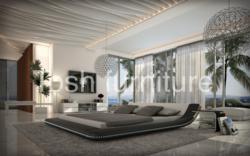 Contemporary Modern Platform Bed with LED light
(PRWEB) February 05, 2013
DA Stores announced last week that it's authorized to offer the new line of Tosh Furniture beds.
This collection of Italian design beds offers the beauty and quality that Tosh has built its reputation on. These are the ultra modern bed designs consumers have come to appreciate in recent years. Fluid designs, clean lines and quality leather make this versatile collection that's easy to incorporate into any home decor.
These platform beds also offer other unique additions that aren't always part of a modern bed. Many offer small lighting options that are subtle, though adequate for your bedside lighting needs. "It's about meeting the needs of today's savvy consumer," said a DA Stores spokesperson.
The Tosh Furniture brand has built a solid reputation for its contemporary designs, an ethical approach to the environment with eco-friendly materials and an attention to detail that other manufacturers often are missing. The company manufacturer has redefined what a modern upholstered bed, sofa or outdoor patio collection should encompass and it's all about a robust approach to those modern touches. This, said the company spokesperson, are the hallmarks that a company must possess in order to become a partner with DA Stores.
Two decades in, Tosh Furniture has found the formula that allows it to meet not only the trends in home furnishings, but the right elements that can set a chaise lounge, a dining table or a modern leather bed apart from the competition.
This latest collection bodes well for what consumers are looking for today. As DA Stores spokesperson said, "We're very excited to bring this beautiful collection to the forefront and we're sure our customers will be thrilled with the versatility and beauty they've come to expect not only from our stores, but from the Tosh Furniture brand as well".