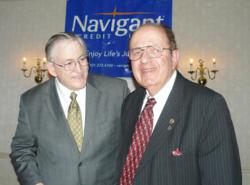 Pawtucket, RI (PRWEB) February 05, 2013
The YMCA of Pawtucket's held its 123rd annual meeting on Wednesday, January 30th, at Pawtucket Country Club in Pawtucket, RI. Sponsored by Navigant Credit Union, this year's annual meeting highlighted the exciting opening of the new MacColl YMCA; focused on the recent addition of the Greater Woonsocket YMCA to the YMCA of Pawtucket, Inc. family; and honored staff and community members for their tremendous contributions to the Y. in addition, Mary Varr, Dr. Patrick Nugent, and Douglas Brown were elected as members of the Board of Directors of the YMCA of Pawtucket, Inc.
The 2012 Volunteer of the Year award, a recognition given annually for exceptional volunteerism, went to Gerald M. Brenner for his successful crusade to reduce the risk of childhood drowning or injury through the creation of a program to provide free swim lessons to children. Working with several community organizations and volunteers, Gerald's program has provided over 125 children in the Woonsocket school system with free lessons, and new programs are already underway. The Woonsocket YMCA provides transportation from Woonsocket elementary schools immediately after school, offers swim instruction for 6-weeks or until the youngsters are able to successfully swim, and includes child watch and snacks until parents are able to pick up their children.
"Gerry did more than come up with the idea, he did all the follow through to make it happen," explained Esselton "Ess" McNulty, General Director of the YMCA of Pawtucket. "From fundraising, to literally going to every elementary school in Woonsocket, to working with parents on transportation, to even providing for bathing suits through donations, his dogged determination is the reason 125 children in Woonsocket now know how to swim,"
Additional honors went to members of the Pawtucket/Woonsocket YMCA Task Force (Antonio Pires, Christopher Bouley, Albert Valliere, Frederick Hall, Edna Poulin, Kevin Tracy, Douglas Brown, Steven Thibeault, and Susan Reed) for the countless volunteer hours they donated to ensure a successful merger between the YMCA of Pawtucket and the Woonsocket YMCA.
In addition, David Lahousse, owner of The Lodge Pub & Eatery in Lincoln and Kay's Restaurant in Woonsocket, was recognized with the 2012 Spirit Award for his generous participation in the community and for helping to make the MacColl YMCA grand opening a great success. David's restaurant donated the food for the celebration, which was enjoyed by all who attended the opening weekend festivities.
McNulty also recognized several key staff members for their years of service to the YMCA of Pawtucket. Office Clerk Carole Pardini celebrated 20 years at the Y, and Donna Viveiros, Office Manager of the Westwood YMCA, commemorated 25 years of service.
"This has truly been a year of great accomplishments and milestones for the YMCA of Pawtucket," said McNulty. "I am proud of the partnerships we have formed with local businesses and community leaders, and I am grateful to our staff for the work they do each day to promote the values and core beliefs of the YMCA. We look forward to building upon the momentum of 2012 to ensure an even brighter 2013."
For more information on the YMCA of Pawtucket or its programs, visit http://www.goymca.com or contact Donna Marie King at 401.727.7515 or dking(at)ymcapawt(dot)org.
Photo caption: Ess McNulty, General Director of the YMCA of Pawtucket, with Gerry Brenner, 2012 Volunteer of the Year
###