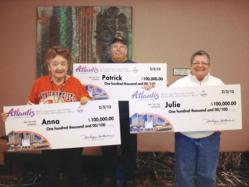 Reno, Nevada (PRWEB) February 11, 2013
If you thought watching Jacoby Jones return a 108-yard kickoff was exciting, just imagine how you'd feel knowing that his big play had just scored you a living room full of free furniture, a brand new $35,000 car, or better still, a $100,000 cash prize.
That's exactly what happened on Sunday, February 3, 2013, for hundreds of lucky football fans who were participating in kickoff return contests and conditional rebate promotions insured by the Reno, Nevada based prize indemnification coverage provider, Odds On Promotions.
Working in conjunction with Odds On Promotions, auto dealers, casinos, retailers, nightclubs, and media outlets throughout the country ran football-themed sales events and promotions giving customers and fans the chance to win free cars, big cash prizes, and jaw-dropping rebates if a particular play - such as the opening or second half kickoff being returned for a touchdown - occurred during the game.
Once Jacoby Jones entered the end zone at the start of the second half, hundreds nationwide won. And now it's up to Odds On Promotions to write the checks for those rebates and prizes, which add up to over $900,000.
While Atlantis Casino Resort Spa in Reno had three lucky guests each score $100,000 at their Big Game party, it was Gardiners Furniture in Baltimore that captured the nation's imagination. The Baltimore-based furniture store "gave away" $600,000 in free home furnishings, reaping a staggering amount of national press coverage, including an interview on Fox Business.
Though writing nearly a million dollars worth of checks might make the average company think twice, Odds On Promotions is taking it in stride.
"Covering big prizes and attention-grabbing promotions is our business. These promotions are doing exactly what they are designed to do ... generating increased awareness, publicity, traffic and sales for our clients. We are very pleased to play a role in our customers' success," said Mark Gilmartin, President of Odds On Promotions. "Big offers motivate consumers to take action, and when there are winners, it's actually good for our business. We're already looking forward to baseball season, where we expect to cover a record number of 'No Hitter, No Payment' sales."
About Odds On Promotions
Founded in 1991 and headquartered in Reno, Nevada, Odds On Promotions, together with its sister company, Hole In One International, provides promotions, over-redemption and prize indemnification coverage for over 18,000 events annually. Odds On Promotions is a full service promotions company and purchasing group, licensed in 49 states, operating pursuant to the Liability Risk Retention Act of 1986 (15 USC 3901 et seq). Odds On Promotions has paid out over $40,000,000 in cash and prizes to contest and promotion winners worldwide. To learn more about prize insurance, contests and promotions, or to request a free quote, call 888-827-2249 or visit their website at http://www.oddsonpromotions.com.