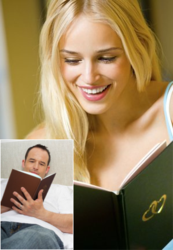 I can't tell you how thankful I am that I found your site! I'm proposing to my girlfriend of 2 years for Valentine's Day. I used the last page of my book to ask the question! The book is perfect, I can't wait to give it to her! - Justin de la Garza
Newark, Delaware (PRWEB) February 06, 2013
Flowers, chocolates, teddy bears...ho hum. Each year people search for a new and creative Valentine's Day gift that will wow and somehow convey their true feelings for the one they love. Heartfelt Books offers a unique service where users can go to their website, select questions to answer about their relationship and have those answers published in a beautiful, hardbound gift book to give as the perfect Valentine's Day gift!
The books are simple and classy - not hard and time consuming like a photo book. Their questions really help get those creative juices flowing so that you put your true sentiments in writing. There are different question types - some are drag 'n drop, short answer, etc. Your answers can be sweet, funny, even naughty - it's your book. In an age of texting and email, these books serve as a lasting testament to the one you love.
At first the task might seem really hard, but it isn't. Many customers report finishing their books in as little as 30 minutes. Of course, one can elect to spend a considerable amount of time if they choose, as Heartfelt Books allows users to work at their own pace, coming back at anytime to work on their books. All information is stored on a secure server and user information is not disclosed to any third parties.
Books are printed and mailed the same or next day, Monday through Friday. Professional editing is available for five dollars for those who want their books checked for spelling and grammatical errors. Because of the quick turn around time offered, Heartfelt Books is publishing books up until 1 p.m. (ET) February 13th, for overnight delivery, to help all hopeless romantic procrastinators.
For those looking for something extra special this year, a Heartfelt Book is truly a creative personalized gift for Valentine's Day!