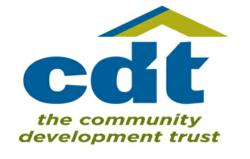 New York, New York (PRWEB) February 06, 2013
The Community Development Trust (CDT), the country's only private real estate investment trust (REIT) with a focus on providing capital for the creation and preservation of affordable housing, closed 2012 with notable accomplishments. Since last January, CDT acquired, or committed to finance more than 1,000 units of affordable housing. CDT is a national Community Development Financial Institution (CDFI), as well as a hybrid REIT. In support of the preservation of affordable housing, CDT acquires properties, originates mortgages, or buys and syndicates mortgages originated by other lenders.
"We're very proud of our accomplishments in 2012 as, once again, we've generated positive returns for our shareholders while remaining committed to our mission of bringing debt and equity capital to underserved markets across the country," said Joe Reilly, President and CEO of CDT. "We believe that our work throughout this past year demonstrates our strength and versatility as an organization, and we look forward to furthering our impact within the community development industry for years to come."
Some of CDT's highlights during 2012 include:

Cushing Residence: In March, CDT partnered with Evergreen Housing Partners and the Senior Housing Group to acquire and preserve the affordability of the Cushing Residence in Hanover, Massachusetts. The 150-unit, 100% Section 8 property provides safe, affordable housing for seniors and the disabled. The property is located next to Cardinal Cushing Centers, a school that provides educational and vocational opportunities for children and young adults with developmental disabilities. CDT's arrangement has allowed for the continuation of numerous social services including a voluntary meal program, computer classes, visiting nurses, a full-time service coordinator, and a joint activity program between the property and the school.
Town Creek Village: In April, CDT originated a $2.6 million first mortgage on Town Creek Village, a 96-unit affordable housing family community located in Lenoir City, Tennessee. The property was newly constructed and completed in 2011 by DPKY Development Company, LLC, and a Tennessee-based real estate company that has developed several multifamily affordable housing communities since 2002. The developer's management affiliate, DPKY Management Company, LLC, manages the property, along with all of DPKY's other communities. Town Creek Village was developed with construction financing and Low Income Housing Tax Credit (LIHTC) equity from Regions Bank. The Tennessee Housing Development Agency provided subordinate debt to further support this development.
Pleasant View Apartments: In June, CDT made its first acquisition with a nonprofit when it partnered with LINC Housing Corporation (LINC), a Long Beach, California-based nonprofit developer of affordable housing for low-income families, seniors, and people with special needs, to acquire the Pleasant View Apartments, a 60-unit, 100% affordable property, serving both seniors and low-income families in Fresno, California. The partnership facilitates on-site social services in the form of tutoring, health and wellness clinics, and special events. CDT's equity investment in Pleasant View Apartments is helping to finance a rehabilitation of the property which will include renovated kitchens, new roofs, new windows, and the construction of a new community center and playground.
Mayor Estates: In August, CDT provided a mortgage to refinance Mayor Estates, a 60-unit affordable housing family community, located in Cambridge, Ohio. The $537,000 first mortgage, originated by CDT, preserved the affordability of the property as it neared the end of its Year-15 LIHTC compliance period. Mayor Estates is owned and managed by Cambridge Management Corporation, a not-for-profit affiliate of the Cambridge Metropolitan Housing Authority and was initially developed with equity capital from the Ohio Capital Corporation for Housing.
Community Development Financial Institutions Fund Award: In August, CDT was awarded $1.45 million from the Community Development Financial Institutions Fund. This was CDT's fourth consecutive year of receiving an award. CDT was one of 108 established organizations serving low-income communities to receive this year's largest award amount. The award is presented to leaders in community development and will allow CDT to further its commitment to make innovative, mission-driven investments around the country in communities that need them most.
Vintage Crossing: In August, CDT closed its first preservation transaction with Denver-based Steele Properties/Community Housing Concepts, when it originated a $1.5 million acquisition loan for Vintage Crossing, a 50-unit community of senior housing located in Cuthbert, Georgia. CDT's financing included the funding of project upgrades totaling approximately $100,000, which will add to the future viability of this project. The community is supported by a long-term Section 8 contract and is managed by the Monroe Group, a national property management company specializing in affordable housing serving families and seniors.
Steinbeck Commons: In October, CDT acquired a 100-unit, age-restricted, 100% project-based Section 8 property in Salinas, California called Steinbeck Commons. The property was purchased and rehabilitated with LIHTC equity and tax-exempt bonds by an affiliate of Southport Financial Services in 1998. By replacing the tax credit limited partner, CDT has enabled Southport to recapitalize the property and maintain operating the property as high-quality affordable housing for seniors in Salinas. The partnership will allow CDT and Southport to make immediate capital improvements to the property, including exterior painting, and ensure it remains in excellent physical condition well into the future.
Sutton Oaks Phase II: In October, CDT approved a fixed-rate forward commitment to originate a $4.6 million first mortgage on a 208-unit affordable housing family community located in San Antonio, Texas called Sutton Oaks Phase II. The property is the second phase of a new construction, mixed-income community that will serve as replacement housing for a public housing development built in 1952. When completed, Phase II will contain 49 public housing units that will receive income from an Annual Contributions Contract, 113 LIHTC units, and 46 market rate units. The property is being developed by Franklin Development Properties, Ltd., and the San Antonio Housing Facilities Corporation is the sponsor.
Santa Ana Towers: In December, CDT acquired a limited partnership interest in a 200-unit age-restricted, 99% project-based Section 8 property located in Santa Ana, California called Santa Ana Towers. In 2001, Thomas Safran Associates (TSA) purchased and rehabilitated the property with tax-exempt bonds and 4% LIHTC equity. CDT made a preferred equity investment which allowed TSA to exercise its option to purchase the property from the LIHTC limited partner.
These highlights are representative of the impact CDT has on the communities it serves, by providing long-term capital to preserve the viability and affordability of the nation's critically needed affordable housing.
About CDT
CDT is the country's only private real estate investment trust (REIT) with a focus on providing capital for the creation and preservation of affordable housing. Working with local and national partners, our organization makes long-term equity investments in affordable housing and both originates and purchases long-term mortgages supporting the development and preservation of affordable housing. After more than fourteen years of operations, CDT has provided approximately $900 million in debt and equity capital to properties in 42 states and regions -- helping to preserve and create more than 32,000 units of affordable housing.