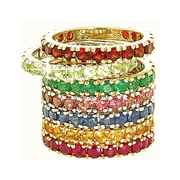 "We know our customers come in many different shapes and sizes. So we wanted to offer a selection of rings that reflects that."
Los Angeles, California (PRWEB) February 06, 2013
Over the last 15 years, the jewelry industry has experienced a huge growth in online-only stores which have posed new competition for traditional chain stores in communities around the country. Despite this growth, shoppers have found few increases in sizing options for rings and necklaces designed to fit people of all shapes and sizes.
Louy Schroder, manager at online jeweler diViene.com agrees that there is an explosive growth in new retailers but the availability of sizing options has not kept up, especially for rings.
"Women who do not have common ring sizes are finding few choices from online stores," says Schroder. "So even if they do find a ring online at an incredibly discounted price, they may still incur extra cost to have the ring resized by another jewelry professional and end up paying more."
For many shoppers, this may be a deal-breaker. The allure of online-jewelers is that they can often offer a much larger selection at a much cheaper price than their brick-and-mortar competitor. However, if a shopper has to order it and then take it in to be adjusted, the trouble and cost may not be worth the effort. The lack in jewelry options can leave shoppers feeling frustrated and alienated by the sellers.
"We know our customers come in many different shapes and sizes," says Schroder. "So we wanted to offer a selection of rings that reflects that."
Earlier this winter, diViene.com rolled out a new selection of stackable-rings in uncommon sizes to help fill the void. Testing the market, they've expanded their made-to-order stack rings to include sizing options from 3.5 all the way up to 12.
"The feedback we're getting has been positive. We obviously still sell more rings in standard sizes, but we're seeing more and more sales from the uncommon sizes." Schroder adds "It actually is encouraging to see customers taking part in the same deals and original designs we are able to offer without going through the risk and hassle of customizing the ring size elsewhere."
It is hard to say whether other jewelers can follow suit. In most cases, retailers buy their jewelry pieces in large quantities from overseas vendors. Having ready-made jewelry in-stock which doesn't fly off the shelves as quickly can cost more in the end for retailers. However, due to diViene's made-to-order and local operation, Schroder is optimistic.
"If this trend continues, we may look at expanding our selection of necklace and bracelet sizes as well."
About diViene
diViene.com is an online gemstone jeweler based out of Los Angeles, California specializing in birthstone jewelry. The artisans at diViene personally design and create all of their own original jewelry pieces in-house which are then presented on their website. diViene offers different types of birthstone jewelry and gemstone jewelry pieces, including Garnet, Amethyst, Aquamarine, White Topaz, Peridot, Blue Topaz, Diamond, Ruby, Sapphire, Emerald, Tanzanite and others. To view the full collection, visit http://www.diViene.com or call 1-877-570-3456 for more information.