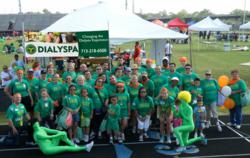 Houston, TX (PRWEB) February 05, 2013
Thirty-three companies, organizations and institutions that demonstrate vision and a drive for excellence were selected as category winners by combining votes of chapter members and a panel of local marketing educators and professionals.
Dialyspa provides dialysis services at industry leading staff to patient ratios at three facilities in the Houston, Woodlands and Willowbrook areas. Founded by a dialysis patient and an emergency room physician, all Dialyspa dialysis centers offer patient care in a comfortable, luxurious setting designed from a patient perspective.
"At Dialyspa, we approach marketing the same way we do patient care; we function as a team. We have a unique story and we are dedicated to changing the way dialysis is experienced." says Kim Coachman, Communications Liaison for Dialyspa. Collaboration extends beyond the Marketing Department to everyone at Dialyspa. "Receiving this award is the result of a whole group effort. Guidance from Blue Sky Marketing has helped us share our mission to improve the lives of those living with End Stage Renal Disease."
Best in Category winners will be honored Monday March 18, at the Alley Theater at an event hosted by the AMA Houston Chapter. Over all Marketer of the Year will be selected by senior marketing professionals from outside the Houston area. David Ramirez, Vice President of Facilities, responds to winning the award, "I'm excited about us winning the award. The billboards are a big part of our marketing but everyone does a good job trying to promote the company." The Dialyspa team sees this award as a tribute to the people who trust their care to them.
The AMA Houston has received the American Marketing Association's prestigious Chapter of the Year award for 2011-2012. This is the sixth time in eight years that the Houston Chapter has been awarded this recognition.