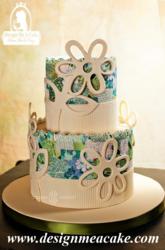 Winchester, Virginia (PRWEB) February 06, 2013
March 1, 2013 is the deadline for cake decorators and sugar artists to enter the Divisional Show Special Category, "Images in Icing" contest, to take place at the National Capital Area Cake Show on April 6-7 at Fairfax High School in Fairfax, Virginia. The contest is sponsored by Icing Images.
Each contestant in the "Images in Icing" contest will receive a packet of icing sheets pre-printed with a patterned iiDesign from Icing Images that will need to be utilized to decorate a cake. All entrants will receive the same selection of pre-printed icing sheets. Each design in the packet will need to be represented on the display in some form. Cakes may be tiered, non-tiered, sculpted, etc. as long as the decorations conform to the rules.
The contest will span several divisions including Youth, Teen, Adult Beginner, Intermediate, Advanced, Semi-Professional, and Masters.
Contestants are encouraged to be creative and think beyond simply applying the images to the cake surface. Participates can visit the Icing Images website for ideas and tutorials on how to use the iiDesigns in the decoration of their cake.
To see the rules and descriptions of the divisions, visit http://www.cakeshow.org/Documents/2013_NCACS_Entry_Rules_info.pdf.
Each divisional winner will receive a packet valued at over $100 which includes Premium colored icing sheets, Pearl Luster icing sheets, Premium white icing sheets, and a one year subscription to iiDesigns, all courtesy of Icing Images.
The Virginia Chapter of the International Cake Exploration Societé (ICES) will be hosting the National Area Cake Show. In its fifth year, the show will also showcase demonstrations for cake decorating enthusiasts, adult beginner cake decorating classes, and youth activities in cake decorating. Vendors of cake decorating products will also be on hand.
Icing Images has been a leader in the edible imaging industry since 1999. They have provided the baking industry and cake decorators with edible image printers, icing sheets, edible inks, Silhouette Electronic Cutters, colored icing sheets for electronic cutters, custom edible printing, and their exclusive iiDesign program.
iiDesigns is a web-based subscription that gives cake and confection decorators access to 1000's of designs that are easily printed onto icing sheets with an edible image system.