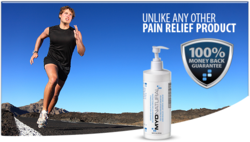 MyoNatural uses a patented delivery system to provide rapid relief from pain.
Mesa, Ariz. (PRWEB) February 09, 2013
MyoNatural, a pain relief cream, will now be available on Amazon.com, one of the largest online retailers in the world. This partnership will put this innovative anti-inflammatory in the hands of those who suffer from arthritis, fibromyalgia, joint pain, and sore muscles. The product was previously only available on NaturalPainCream.com.
MyoNatural combines six homeopathic ingredients to help reduce inflammation and pain. These all-natural ingredients are toxin-free and have no side effects. This makes it an ideal pain relief product for everything from injured athletes in the prime of their career to seniors suffering from joint paint.
MyoNatural uses a patented delivery system to provide rapid relief from pain. This system uses liposomes made from phospholipids to deliver the active ingredient Celaplex directly to the sore tissue. Other cream pain relievers often only mask the pain by affecting the dermal receptors that send message of pain to the brain. By penetrating to the deep tissue level, MyoNatural is able to actually reduce the inflammation rather than simply relieve the symptoms. By repairing the damage directly, the body will be able to better resist future damage.
More information on MyoNatural can be found on the web at http://www.naturalpaincream.com, by calling 1-888-744-0175, or on Facebook at http://www.facebook.com/myonatural. It can be purchased on naturalpaincream.com or Amazon.com. MyoNatural's website, was designed by and is managed by internet marketing firm Web-Op.