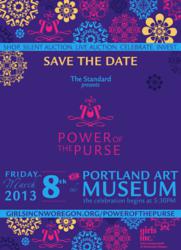 In this day and age, it is more important than ever for our girls to have the confidence to go out into the world and be strong, smart, and bold.
Portland, OR (PRWEB) February 06, 2013
The Standard presents the eighth annual Power of the Purse fundraiser on Friday, March 8, 2013 at the Portland Art Museum. The annual gala benefits the programs and mission of Girls Inc. of Northwest Oregon, which includes after-school programs that mentor and teach girls the social, financial and leadership skills they need to take control of their lives and grow into successful adults.
This year's Power of the Purse main event features 14 local Portland "Purse-o-nalities" and 13 purse designers who worked directly with each other to design a one-of-a-kind handbag, reflecting each "Purs-o-nality's" true style. Each piece is a unique work of art, which will be auctioned off during a live fashion show showcasing the fabulous handbags the creative individuals who inspired the design. The event will begin at 5:30pm with the silent auction and purse boutique and includes a light dinner.
The third annual Boutique Night will also be held on Friday, March 8, beginning at 4:30pm in the Fields Sunken Ballroom of the Portland Art Museum. Boutique Night will feature more than 25 of Portland's trendiest boutiques and purse designers all in one location—25 percent of all proceeds will go to Girls Inc. Admission to Boutique Night only is available for $35 and includes cocktails, hors d'oeuvres, silent auction, shopping and wine wall.
"In this day and age, it is more important than ever for our girls to have the confidence to go out into the world and be strong, smart, and bold," said Elizabeth Nye, Executive Director of Girls Inc. of Northwest Oregon. "From preparing girls to be financially independent to teaching them importance of a strong self worth, I have personally witnessed the impact our programs have had on the lives of local girls and their families. For eight years, Power of the Purse has made it possible for Girls Inc. of Northwest Oregon to continue serving girls in our region. I am honored to continue the tradition of this incredible event and witness the positive impact it will have not only on our girls, but the community as a whole."
This year's Purse-O-Nalities and purse designers include:
Judith Arnell, Business Owner, Judith Arnell Jewelers; Minou-Minou
Mackenzie Carr, Miss Rodeo America 2012; Diamond 57
Katherine Durham, Vice President of Marketing and Communications, The Standard Insurance Co.; Mo and Co Bags
Orcilia Forbes, Higher Education Leader; BTWN WIND + WATER
Erin Janssens, Portland Fire Chief, Portland Fire and Rescue; Nomad Unlimited
Kim Malek, Owner and CEO, Salt n' Straw; Spooltown
Tom Manley, President, Pacific Northwest College of Art; Carol Risley Handbags
Karolyn Neupert, Chairman of the Board, Consolidated Supply; Christina Castillo Handbags
Chris Mays, Program Director, KINK Radio; Leather Girl Kelley
Portland Thorns, Portland's FC Female soccer team; Truce
Cheryl Strayed, National Award Winning Author of Wild; Columbia Sportswear
Stephanie Stricklen, News Anchor, KGW; Carol Risley Handbags
Cindy Tortorici, CEO and Owner, The Link; Ellington Handbags
Liv Warfield, Rockin' Soul Singer; BD503
Since 2005, more than 100 of Portland's most notable community leaders, media personalities, artists and entrepreneurs have worked with local purse designers to create one-of-a-kind handbags. These creations have raised more than $700,000 for Girls Inc. of Northwest Oregon. In 2012, more than 450 Girls Inc. supporters attended Power of the Purse, and individual handbags were purchased for as much as $6,000. In 2013, Girls Inc. hopes to raise more than $240,000 to fund locally based programs.
The Presenting Sponsor for this year's event is The Standard. In addition, Partner Sponsors include Cindy Thompson Event Productions, Ann and Mark Edlen, Comcast, Knowledge Universe, The Harold and Arlene Schnitzer CARE Foundation, Heather Killough, Hanna Andersson, KEEL Creative, KINK.fm and Ernst & Young LLP.
Tickets for Power of the Purse are limited; tickets are $150 per person, or can be purchased in packages of six unreserved runway seats for $600, four VIP reserved runway seats for $800, or 8 reserved seats for $1600. Tickets for Boutique Night are $35 and include beverages, food, and desserts. For more information about Power of the Purse, or to reserve tickets, visit [http://www.girlsincnworegon.org or call 503-230-0054.
About Girls Inc. of Northwest Oregon
Girls Inc. of Northwest Oregon is a nonprofit 501(c)(3) that inspires girls, ages 6-18, to be strong, smart, and bold. Our gender-specific programs and research-based curricula provide girls with the confidence and self-esteem to access a bright and economically-independent future. As a local affiliate of the national Girls Inc. organization, we provide vital educational programs to girls, particularly those in high-risk, underserved areas. Since its inception in 1998, Girls Inc. of Northwest Oregon served 5,000 girls and their families through after school-based empowerment programs and year-round enrichment and skills building programs.