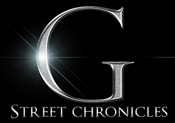 Two people stopping at nothing to make their dreams come true.
Atlanta, Georgia (PRWEB) February 06, 2013
G Street Chronicles launches two new divisions of one of the most popular Urban Fiction publishing companies—G Street Essence and G Street Erotica. With 65 titles, they have expanded their forum to separate and focus on the genres in demand by their readers.
"We want to share what we've built with people everywhere. We are establishing marketing and publicity support to maximize the influence of our authors and increase the readership across the country, not only with eBooks but also paperbacks," said George Sherman Hudson, CEO of G Street Chronicles.
"It is our goal to provide our readers with an array of titles that offer them the types of stories they desire, as well as quality reads whether it be a short story, a novella or full length novel—urban fiction, contemporary fiction or erotica. We strive to entertain the masses and leave them wanting more," said Shawna A., COO of G Street Chronicles.
This powerhouse duo plans to continue to excel while providing the fast-paced, suspenseful, twisting plots their readers have become addicted to. "I can't get enough" is one of the common things heard from their fans. They also plan to continue to keep their doors open for new talent.
***Next up from this Urban Dynasty is Black Out, part three of The Lights Series by CEO, George Sherman Hudson releasing Friday, February 8, 2013. This 5-Star series' main character, Real, has stolen the hearts of women across the country and his treacherous ways have gained the respect of men. Mr. Hudson's ability to pen these wonderful stories while operating a company continues to amaze his fans.
***Last week's release has taken the literary world by storm! Part five of the 5-Star Contemporary Fiction Love, Lies & Lust Series. No Ordinary Love by Mz. Robinson. This author is loved by thousands. Her books continuously top the charts, and the stores nor libraries are able to keep her paperbacks in stock. This Alabama resident has definitely made her mark in the literary industry and continues to add excellence to the G Street Chronicles catalog.
You can follow G Street Chronicles at http://www.gstreetchronicles.com, G Street Chronicles Fan Page on Facebook and @GStreetChronicl on Twitter.
# # #