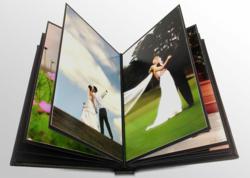 Palo Alto CA (PRWEB) February 08, 2013
BrideBox, a direct to bride professional wedding album company, has released the new and unique "Petite" Album; a beautiful small photo album that will last a life time. Made with genuine black leather cover, thick sturdy lay-flat pages; the Picture Album is printed on professional photographic paper and allows one photo per page.
"This new album is great for engagement photos and even as a thank-you gift for friends and family, says Bryan Passanisi, BrideBox Marketing Manager. "The product is sleek in style. It's black leather bound and printed on high quality photographic professional paper. The "Petite" album is available in 4.5 x 6.5 and 5.5 x 7.5 sizes, with one image per page limit"
The creation of the "Petite Album" is simple, using BrideBox new online album design tool. Brides, Grooms and family can create the new "Petite" album in a few short minutes.
The outcome of quality is impressive and the picture album will last a lifetime. Each image is manually color corrected to ensure a high quality product and each every album is reviewed after being created for quality assurance. The Petite Album can be delivered to the consumer's door in 5 business days.
During the first month of its launch, BrideBox will offer the "Petite" album at an introduction special price with discounts of 30-40% off the regular price.
About BrideBox
BrideBox is devoted to helping couples design their own wedding albums. The BrideBox line of wedding albums offers unmatched quality, without sacrificing top photo finishing that mark a professionally produced album. Through the BrideBox software platform, couples can create albums produced with the same individual attention of imaging professionals for a significant cost saving.
BrideBox is a division of DigiLabs, Inc., a privately-held company that creates superior photo products available through professional photographers.
Find BrideBox on Facebook - http://www.facebook.com/BrideboxWeddingAlbums
To download the free software application, visit http://www.BrideBox.com