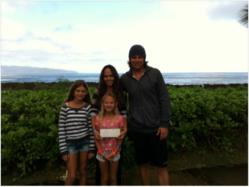 'KARMA CARES FOUNDATION' PRESENTS 'THE SION MILOSKY MEMORIAL FUND' WITH $1,000
Kauai, HI (PRWEB) February 06, 2013
Hawaiian big wave surf pro, Reef McIntosh, presents a $1000 check from 'Karma Cares Foundation' to the Milosky family. McIntosh, sponsored by Quiksilver, fully supports the 'Karma Cares Foundation' for their commitment and loyalty to Hawaii's surfers and their families.
Sion Milosky, the late 35-year-old Volcom-sponsored big wave surf legend passed away on March 16, 2011 while surfing Maverick's merciless waves. Tragically, a few short months before his passing, Sion was granted $25,000 by Vans and North Shore Underground, a program created by Surfing Magazine, to travel anywhere of his choosing to surf. And although surfing was a tremendous passion of Milosky's, the sport failed to compete with his truest passion, love and devotion to his family.
"Sion was an amazing man on land and in the water," said McIntosh. "Sion's first passion was his wife and kids, and surfing big waves was his second". "He was loved by many and I am truly grateful to have called him one of my great friends".
Leading surf and sport brands, such as Volcom and Vans, have adamantly supported the Milosky family, setting up multiple donation sites and perpetuating Sion's legacy with countless tributes of admiration.
Karma Tequila recently launched in Hawaii, which is distributed by Southern Wine & Spirits (http://www.southernwine.com). Bob Morse, VP of Southern Wine & Spirits in Hawaii, is enthusiastic about Karma Tequila's contribution. Morse stated, "The Karma connection in the Islands continues to grow. Your foundation has its heart in the right place."
For every bottle of Karma Tequila sold in the Hawaiian broad market, $1 per bottle will be contributed to organizations such as "The Sion Milosky Foundation" and other influential surf organizations in Hawaii.
About the 'Karma Cares Foundation'
'Karma Cares Foundation' is a subsidiary of 'Kids Courage Foundation' (http://www.kidscourage.org), with the mission to assist "underprivileged kids in regard to health and education". Karma Tequila contributes a portion of the proceeds from each bottle purchase worldwide to the "Karma Care Foundation".
About Karma Tequila
Karma Tequila (http://www.karmatequila.com), a subsidiary of 'WC Spirits, LLC' is based in Agoura Hills, CA and is the producer of an all-natural blend of double and triple distilled 100% agave tequila. Karma Tequila is now distributed in California, Connecticut, Delaware, District of Columbia, Florida, Georgia, Hawaii, Illinois, Maryland, Nevada, New Jersey, North Carolina, Pennsylvania, South Carolina, Tennessee, Texas, Virginia, Washington and Tokyo, Japan. Each bottle of Karma Tequila also holds a special "Karma Cares" bracelet with a leather band and circle. The bracelet is a positive reminder for our customers' to focus on their good Karma while thinking of others.
Karma Tequila focuses on charitable organizations, such as Kids Courage (http://www.kidscourage.org), The Cystic Fibrosis Foundation, Project Cuddle (http://www.projectcuddle.org), Roosters Foundation, Andre Agassi Foundation (http://www.agassifoundation.org), Children's Miracle Network and many others. By supporting Karma Tequila, you're assisting many organizations that are trying to raise money for their specific causes.