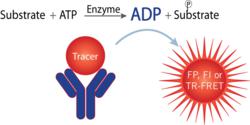 We love to see people using the Transcreener assays for really challenging targets like tRNA synthetases, that might otherwise go unscreened. BellBrook CEO, Bob Lowery
Madison, WI (PRWEB) February 06, 2013
BellBrook Lab's Transcreener HTS Assays were featured in seven posters at the SLAS 2013 Conference and Exhibition in Orlando, the week of Jan 13th. BellBrook presented four posters of their own, and there were an additional three posters by BellBrook customers, all of whom are leveraging the power of the Transcreener platform to screen enzyme targets that would be very difficult to detect in an HTS-compatible format using any other approach. Illana Stroke from Venenum BioDesign presented on the use of the Transcreener ADP Assay for screening Clostridium dificile toxins (TP148). Laura Pedro-Rosa from Scripps, Jupiter presented on her screen for a Trypansoma tRNA synthetase using the Transcreener AMP/GMP Assay (MP058). David Whalley from the MRC in London presented on a screen for PAICS, a bifunctional synthetase in the de novo purine biosynthetic pathway that is being targeted for metastatic breast cancer (TP166). These posters can be viewed in the SLAS ePoster Gallery using the indicated codes.
BellBrook's presentations included 1) a poster and a tutorial showing how their new Transzyme Methyltransferase Assay Kits simplify methyltransferase screening and profiling by combining the universal Transcreener EPIGEN Assay with pre-calibrated enzymes from Reaction Biology, 2) a poster showing that, in comparison with other ADP detection methods, the Transcreener ADP assay is more sensitive, provides greater reagent and signal stability and is more highly validated in peer reviewed publications, especially for HTS applications; 3) a study that shows – for the first time – detection of GTPase activity using full length LRRK2 (kindly provided by Life Technologies early access program); 4) a poster showing how the three major classes of human glycosyltransferases can be detected with different Transcreener assays. BellBrook posters are all available as pdfs on the company's Transcreener Posters webpage.
About BellBrook Labs. BellBrook Labs is dedicated to accelerating drug discovery and biological research by providing innovative high throughput screening solutions for enzymes and phenotypic assays. The company's Transcreener® HTS enzyme assays, used by all of the major pharmaceutical companies, make it easy to screen thousands of different enzymes, including validated targets like kinases, as well as emerging targets like ATPases, GTPases, methyltransferases, and glycosyltransferases. The iuvo™ Microconduit Array technology and assay screening service is a line of unique microscale devices for miniaturization and automation of advanced cell models that are more representative of human physiology.