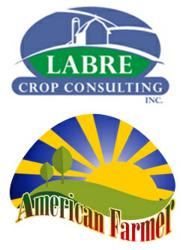 Mason, IA (PRWEB) February 05, 2013
Labre Crop Consulting, an independent crop-consulting firm, announced today they will be featured in an upcoming episode of American Farmer.
Started by LuAnn and Brent Johnson, the company began as an independent soil sampling and consulting service for farmers. Today, through the availability of select data collecting equipment, the Johnson's in association with other agronomists are able to interpret how farmers can make the best use of their land.
"We take pride in providing cutting edge information services for today's farmers. With this information, growers can better manage their crop operation to meet their goals. Today's farmers collect data gathered by advanced digital equipment. We help producers use that information to make informed decisions based on numbers, not feelings. Labre Crop Consulting is proud to partner with American Farmer to inform viewers of the most significant revolution in agriculture since the tractor – information management."
In this episode of American Farmer, viewers will learn how Labre Crop Consulting makes use of soil data in order to save growers from unnecessary expenses, while maximizing their crop return. Audiences will be amazed by the extensive technical and agricultural knowledge Labre Crop Consulting posses.
"Labre Crop Consulting truly understands the agriculture industry," said Charles Cowan, producer for American Farmer. "Labre Crop Consulting's depth of knowledge allows them to make sense of the data, while being able to explain it to their clients in layman terms."
About Labre Corp Consulting:
Labre Crop Consulting is an independent crop consulting company focused on precision agriculture. Farmer owned and a business culture grounded with Midwest work ethics, we strive to help producers make sense of a very fast paced industry.
For more information, visit: http://www.gpssoilsampling.com or call (712) 469-7512.
About American Farmer:
American Farmer is a breakthrough program on a mission to showcase the latest advancements in agriculture and farming. From seed to harvest, livestock and more, our producers have traveled the country covering the people, places and issues impacting all areas of farm country.
For more information visit: http://www.americanfarmertv.com or call (866) 496-4065.
Media Contact:
Charlie Cowan, Producer
(866) 496-4065 x 875