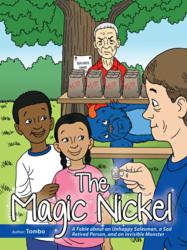 People are important. Not money, power and prestige.
ORO VALLEY, Ariz. (PRWEB) February 05, 2013
The best things in life are in fact not things at all. Too often, people find joy in money rather than the act of sharing with others.
Author and educator Tombo teaches children and adults alike that there is more value to life than material possessions in his newly published tale, "The Magic Nickel" (published by Inspiring Voices).
The book takes readers into the world of a grumpy salesman whose only happiness in life stems from making more money. With the help of two children, an invisible monster and a magical coin, the man learns the true meaning to life, and the value of sharing.
"People are important," Tombo says. "Not money, power and prestige."
"The Magic Nickel" is full of adventure for the young imagination, but it also offers life lessons in the form of discovering friendship, kindness, and joy. The author offers two different endings to the book, in order to appeal to readers regardless of religious or spiritual beliefs.
"We need to avoid the idea of always having to have the next bigger and better thing," he says. "Sharing even the simple things can have enormous benefits."
About the Book
"The Magic Nickel"
By Tombo
ISBN: 9781462402809
26 Pages
Softcover, retail price: $16.99
E-book price: $3.99
Available online at amazon or inspiringvoices.com
About the Author
Tombo has a master's degree in education from the University of Wisconsin and more than 30 years of experience as an elementary school teacher. Teaching is his first love, but Tombo also hosts religious retreats and directs spiritual workshops at local conferences. Tombo enjoys volunteer work and leading Bible study lectors through the St. Elizabeth Ann Seton Church. He resides in Arizona.
###