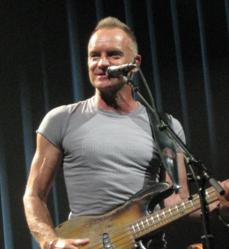 Denver, Colorado (PRWEB) February 05, 2013
English rocker Sting recently announced that he would extend his Back to Bass tour with 25 additional dates in North America and Europe this summer.
The opener is set for May 30, 2013 in Kelowna, British Columbia, followed by stops in Victoria, San Francisco, Denver, Chicago, Baltimore, Atlantic City, Kitchener, Kingston, Bangor, Boston, Uncasville, and Summerside. The North American portion closes in St. Johns, Canada on June 26.
The tour then flies to Europe for gigs in Poland, Ireland, Sweden, France, Denmark, Norway and the Netherlands for a wrap on July 14. According to Sting's website, additional dates will be announced in the coming weeks.
Sting, a 16-time Grammy Award winner, is expected to continue his tradition for performing many of his greatest hits. He will be joined by his five-piece touring band, including Dominic Miller on guitar, David Sancious on keyboards, Vinnie Colaiuta on drums, Peter Tickell on the electric fiddle, and Jo Lawry helping with vocals.
"Search traffic for Sting has been surging lately as his tour approaches," said Felina Martinez at online ticket marketplace BuyAnySeat.com. "Although some of the performances begin to sell out closer to show time, many of the more popular venues are already booking up both here and overseas. We still have a great inventory of tickets however."
"In fact, we're proud to be able to offer fans Sting tickets, with a worry-free guarantee to protect their purchase," said Martinez.
"To access the complete selection of cheap Sting tickets we now have available, customers can go to BuyAnySeat.com and search for Sting – then select their tickets," said Martinez.
Among the most popular North American venues are the Santa Barbara Bowl in Santa Barbara, California on June 3, the open-air Red Rocks Amphitheatre concert outside Denver, Colorado on June 5, the Ravinia Festival in Chicago on June 7 and 8, and the Bangor Waterfront Pavilion show on June 20, added Martinez.
Born Gordon Matthew Thomas Sumner on October 2, 1951, Sting is an English musician, singer-songwriter, multi-instrumentalist, human rights activist, actor and philanthropist. He was the main songwriter, lead singer and bassist for the rock band The Police founded in 1977.
The winner of 16 Grammy Awards, Sting's musical talents encompass vocals, bass guitar, double bass, mandolin, lute, guitar, piano, keyboards, synthesizers, guitalele, harmonica, saxophone, oboe, hurdy gurdy, synclavier, drum machine, bass pedals and percussion.
The artist also has a varied musical style, incorporating elements of rock, pop, jazz, reggae, classical, New Age and New Wave into his music.
Sting is also known for his support of charitable causes. Most recently, he sang at the Hurricane Sandy: Coming Together benefit on November 2, 2012 to help raise money for those affected by the storm, which hit the east coast of the U.S. earlier that week. The show reportedly raised $23 million for victims. (Source: Rolling Stone, 11/05/2012)
To shop for cheap Sting tickets, visit BuyAnySeat.com.
About BuyAnySeat.com: An online ticket marketplace, BuyAnySeat.com connects sports, theater and other live entertainment fans to an extensive worldwide network of ticket sellers. The site's simplified listings and navigational tools enable fans to easily locate, compare and purchase inexpensive, discounted or lower-priced tickets to virtually all advertised sports and entertainment events around the globe.
The site, which is PCI-compliant and Norton Secured, also provides customers with a complete Worry-Free Guarantee on all ticket purchases. Based in Denver, Colorado, BuyAnySeat.com is a subsidiary of Denver Media Holdings. For more information, please visit http://buyanyseat.com.