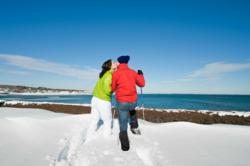 North Hampton, NH (PRWEB) February 05, 2013
From iconic lighthouses to historic rocks to scenic mountaintops, what could be more romantic than the history, charm and scenery of classic New England? With that in mind and Valentine's Day quickly approaching, New England Inns & Resorts polled it's more than 200 members to find their opinion of the most ideal places for lovers to kiss throughout the region. These spots are well-known for their romantic nature and have seen many a kiss or even marriage proposal and will surely see many more in the future. All of the entries from members are now on Facebook and available for fans to vote upon until February 14th! Fans can vote once every 24 hours on their favorite spot and help determine the Top Ten Places to Kiss in New England. For added bonus, every person who votes will be entered to win a $250 gift certificate from New England Inns, redeemable at more than 200 properties across New England. Not yet a fan of New England Inns & Resorts? Click here to become one!
New England Inns & Resorts has long been a resource for romantic and couples travel. The site currently offers over 50 packages for romantic getaways! These packages are designed specifically with lovers in mind and available for Valentine's Day, anniversaries, proposals or that special re-connect weekend. They all feature wonderful, value-added elements meant to enhance the romance. Some examples are packages that include one or more of the following things: roses, champagne, private dinners by fireside, large suites, Jacuzzi suites, massages, chocolate covered strawberries, bottles of fine wine, culinary experiences and much, much more. The romance packages vary by property and can be found on the New England Inns website at http://www.newenglandinnsandresorts.com/Romance-Packages.
New England Inns and Resorts Association is comprised of over 200 of the finest inns, resorts, hotels, and B&Bs in the region, with a wide range of accommodations to satisfy every visitor. Travelers can find more information about accommodations and traveling to New England by visiting the New England Inns & Resorts website at http://www.newenglandinnsandresorts.com/.
About The New England Inns & Resorts Association
New England Inns & Resorts Association is a collection of New England's most distinctive, independently owned and operated lodging properties. Established in 1907 by owners of B&Bs, hotels, inns and resorts in the New England region, the Association is comprised of over 200 properties. Many of the lodgings are also members of Historic Hotels of America, Preferred Hotels and Select Registry.
The association's website, NewEnglandInnsandResorts.com, is a rich resource for consumers offering a quick reservations widget that searches all member room availability for one-stop comparison shopping and booking directly from the site.
Also new from New England Inns & Resorts is the free New England Inns & Resorts Mobile App which allows users to explore New England Inns & Resorts' unique collection of over 200 properties. Guests can search by town and state, use the Map feature to find properties in close proximity to their current location, access exclusive lodging deals and book or call to make a reservation right from the app! It's an easy way for travelers to carry New England Inns with them for the easiest access possible.
In addition to featuring value-rich packages for consumers, the association is also well known for their gift certificates, which are available in any denomination and redeemable at all member properties. Gift Certificates can be purchased online or by calling the association directly at 1-603-964-6689.
Please visit NewEnglandInnsandResorts.com for more information.
# # #