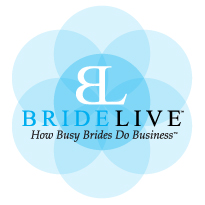 The concept of BrideLive is one of the most important and relevant tools that a wedding professional can have to help communicate, close sales and better serve customers when they can't meet with them face to face
Los Angeles, CA (PRWEB) February 05, 2013
Wedding and event professionals interested in improving their web presence will have a chance to hear from 30-year wedding industry professional Brian Lawrence during his webinar entitled "Turning Your Website into a Virtual Front Lobby" on Wednesday, February 13, 2013. This webinar comes as part of BrideLive's Consultants Corner, their newest continuing education program for wedding and event professionals.
Lawrence has been involved in the wedding and stationery industry for more than 30 years. Fulfilling various roles throughout his career including a multi-store owner and VP of sales and marketing for a prominent invitations brand, Lawrence currently owns Local Traffic Builder, a consulting, design and marketing firm catering to the wedding industry. He is a frequent speaker at Wedding MBA and is also a key contributor to the BrideLive blog.
The webinar presented by Brian Lawrence will teach attendees how to use aesthetics and smart SEO architecture to create more visual appeal for their website, increase their site's visibility on search engines and also increase conversion rates amongst their site visitors.
"A website is vital in projecting to the bride the best impression possible before meeting with her in person," said Lawrence. "This webinar will help any professional understand both subtle and important enhancements that will be an excellent gauge to understand their own website's current strengths and also what they can do to make it stronger and more visible to the search engines."
In addition to their one-of-a-kind virtual meeting software, BrideLive has created Consultants Corner, the ultimate business resource for wedding and event professionals. Consultants Corner provides monthly webinars, question and answer forums, blogs, and expert advice and tips from leaders in the industry.
Since its launch in 2011, BrideLive has been helping wedding and event professionals across the nation cater to the needs of the modern bride with their web-based virtual meeting software. BrideLive offers tools like built-in VoIP, interactive floor plan builders, instant file sharing and more.
"The concept of BrideLive is one of the most important and relevant tools that a wedding professional can have to help communicate, close sales and better serve customers when they can't meet with them face to face," Lawrence said.
For more information or to register for the webinar, please visit http://www.bridelive.com/webinars/feb-2013-webinar.html.
About BrideLive.com
Headquartered in Sherman Oaks, California and based on technology that has been in development and commercial production for over nine years, BrideLive.com launched in 2011 as a custom software company and is frequently recognized for its rapid sustained growth, product excellence, and superb multi-media user interface. Through their cutting-edge technology BrideLive.com has been able to provide a web-based virtual meeting space used by wedding planners, photographers, DJs, florists and other professionals in the wedding industry who wish to leverage the power of online, personalized meetings to convert leads, grow sales, and save time. BrideLive offers mobile apps for iOS and Android users, making its state-of-the-art solutions easily accessible via iPhones, iPads, as well as all Android enabled tablets and smartphones.
For more information on BrideLive.com please visit http://www.bridelive.com or call 888.300.8359.