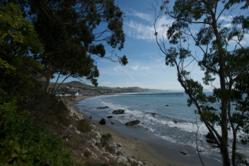 World renowned author Richard LaMotte, of "Pure Sea Glass", will be selling and signing his merchandise at the 2013 Cayucos Sea Glass Festival.
Cayucos, California (PRWEB) February 06, 2013
The 3rd annual Cayucos Sea Glass Festival is quickly approaching and it is no wonder why this event has gained national attention. Sea Glass enthusiasts and craftspeople from around the world will converge in this quaint beach town to sell and showcase their sea glass creations and treasures. Attendees will quickly discover why sea glass collecting is such a popular hobby along coastal regions worldwide.
What's New at this Year's Sea Glass Festival?

The 2013 Cayucos Sea Glass Festival is pleased to announce that the world renowned author Richard LaMotte, of "Pure Sea Glass", will be selling and signing his merchandise.
A private reception with author Richard LaMotte will kick off the festivities on the evening of Friday, March 8th at the historic Borradori-Garage. Attendees will enjoy a lecture, book signing and wine.
Attendees of the festival can become true sea glass experts at the new Sea Glass Discovery Station.
Meet real, mystical mermaids who are eager to pose in photographs with sea glass enthusiasts. Participants will even have an opportunity to purchase "mermaid tears" throughout the event.
Experience art from both local and visiting artists which will add to the ever-evolving atmosphere of this flourishing beach destination.
Visit the festival food court which will consist of local restaurants and various treats to satisfy your sweet tooth. Beer, wine and non-alcoholic drinks will also be available for attendees.
Fabulous new items await silent auction participants. Place your bid for a chance to win sea glass treasures and prizes which you will cherish for years to come.
Enjoy live music by talented musicians such as Grammy-award winning Louie Ortega and his acoustic trio, The Bobby Santa Cruz Band, The Tennessee Jimmy Harrell Trio and Bruce Beck and the Mystery Brothers.
Event Details:
March 8, 2013
Friday night reception with Richard LaMotte: 7:30– 9:30pm
Location: The historic Borradori-Garage. Tickets for the reception are still available by calling Kate Stulberg at 805-995-1351. Tickets are $25 and there is limited seating.
March 9-10, 2013
Saturday from 10am-5pm and Sunday from 10am-4pm
Location: Cayucos Vet's Hall (at the foot of the Pier)
Entry fee: $3.00
Event host: Cayucos Chamber of Commerce
Lodging & Tourism:
Located halfway between Los Angeles and San Francisco, and next door to Hearst Castle, Cayucos has numerous motels, B & B's, vacation rentals and nearby campgrounds, as well as fantastic weather, beaches and wineries. See the Cayucos Chamber website for more information.