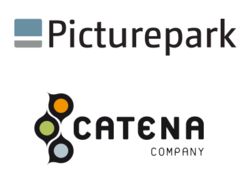 We believe in solutions that are based on proven technologies and open standards...Picturepark is known for these traits.
Aarau, Switzerland (PRWEB) February 06, 2013
Digital asset management (DAM) software maker Picturepark® announced today that Catena Company of Belgium is the Swiss DAM vendor's first new partner of 2013. Serving as Apple's and Adobe's major training center for the region, Catena Company will now additionally offer Picturepark sales and service throughout the Benelux.
"Catena Company offers the precise level and breadth of expertise Picturepark needs in the Benelux," explained Picturepark Director of Sales for EMEA/APAC, Philip Axmann. "Creative professionals trust Catena Company, so we feel confident having them represent Picturepark."
Catena Company's Wim Becker describes what his company looks for in a partner.
"We believe in solutions that are based on proven technologies and open standards, and that provide customers with a lot of functionality right out of the box," he said. "And while we offer very good first-level support, we look for vendors that are solid and can offer us strong second-level support so that our customers aren't left waiting for answers. Picturepark is known for all of these traits."
Becker says the simplicity of Picturepark will appeal to his multi-platform customer base, and the ability to deploy in either the Cloud or onsite will offer an important competitive advantage over other DAMs.
Learn more about The Catena Group at http://www.catenacompany.be.
Learn more about Picturepark DAM software at http://picturepark.com.
About Picturepark
Picturepark is the world's most innovative digital asset management software. Bridging ease-of-use with enterprise functionality and reliability, only Swiss-made Picturepark offers affordable, browser-based DAM that works in the Cloud (SaaS), onsite or as a hybrid. Leveraging Microsoft .NET and SOA for global integration possibilities, Picturepark connectors are available for Adobe Creative Suite, Microsoft Office, SharePoint, YouTube, Dropbox, Typo3, Woodwing and more.
Learn more at http://picturepark.com.