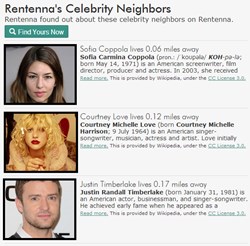 For New Yorkers, frequent celebrity encounters are as typical a part of the daily experience as road-raging cab drivers and unfathomably high rents. Renters in New York now have a site that tells them which A-listers live next door.
New York, NY (PRWEB) February 05, 2013
For most Americans, when celebrities are off the screen, they're out of sight, and life happily goes on. But for New Yorkers, real-life celebrity encounters are as typical a part of the daily experience as road-raging cab drivers, subway break-dancers, and unfathomably high rents. Using apartment rental startup Rentenna.com's free Celebrity Neighbor tool, renters in New York can finally see which A-listers and B-listers (… and C-listers) live next door.
To do a search, renters simply type their current or former building address in the search box. Searchers are then presented with a list of their celebrity neighbors, along with links to those celebrities' biographies on Wikipedia, and are given the option to share their Celebrity Neighbor results with friends over Facebook, Twitter, or email.
The Rentenna Celebrity Neighbor database built using publicly available information, currently contains hundreds of celebrities. The West Village has a large concentration of celebrities such as Julianne Moore, Justin Timberlake, Liv Tyler and Rosie O'donnell. However, the biggest shift in celebrity migration has been to Brooklyn where you might see BK darling Lena Dunham, Norah Jones or recent Oscar Nominee Anne Hathaway. More celebrities are being added to the database on a weekly basis.
Rentenna.com is a free apartment search and reviews site that rates rental buildings on a scale of 0-99, helping apartment-hunters cut through unwanted listings to quickly find their next rental. Rentenna has been covered in The Wall Street Journal, The New York Times, Curbed, and many other publications, and was named to AGBeat's "60 Genius Brands to Watch" list.