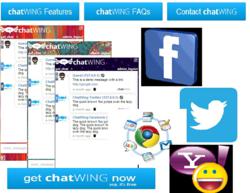 Chicago, IL (PRWEB) February 10, 2013
Online portals are the main sources of immediate information in the cyberspace today. Through these portals, people are getting news and data about their favorite niches, and a majority of them are often entertained. After studying the constant activity of online portals, Chatwing.com has decided to step up in this niche. The company introduced a chat box tool that can be embedded to these websites. The tool focuses on the importance of global communication and social media. The platform's real-time speed is also rated high by many bloggers.
Since Chatwing chatbox operates on real-time communication mechanism, website owners have used it as an inquiry and update tool. Marketers can benefit from this option because the average Chatwing widget has the potential to accommodate thousands of users. A website admin can also customize the platform according to the appearance that he desires. Colors and sizes can be set easily, along with a background image and a MP3 song link. Social media is also an integral part of the platform, letting visitors expand their networks significantly.
Back then, the Chatwing Team is constantly making online surveys to know about the needs of web users and website owners. Through these surveys, the company was able to develop a clear strategy that will help introduce the chat box to thousands of people in the cyberspace.
It is clear that online portal creators can gain greater communication leverage through Chatwing's versatile tool. In the coming weeks and months, the Chatwing Team will continue introducing more helpful upgrades to ensure that web users will get the best out the chat tool.
About Chatwing.com
Chatwing.com specializes in the new field of website chat. Over years, the development team has introduced live chat widget for hundreds and thousands of blogs. The application bridges people from many parts of the world, creating global synergy through the Internet. The shout box can be installed in just seconds, and it can be used for varying purposes such as leisure and Internet marketing. It also allows a user to customize the size, color, and name of the widget.