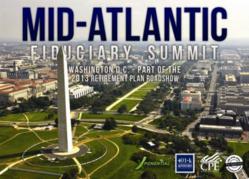 build upon our discussions that focus on fiduciary issues impacting mid- to large-size retirement plans
Tysons Corner, VA (PRWEB) February 05, 2013
"We are excited to kickoff our 2013 Mid-Atlantic Fiduciary Summit series in Northern Virginia," said Craig Dewey- Managing Director of 401(k) Advisors. "With the location a few miles away from D.C., it's an appropriate venue to build upon our discussions that focus on fiduciary issues impacting mid- to large-size retirement plans."
Managing director Craig Dewey hosts the Summit. In addition to being an industry leader, Dewey is ranked on the 401kWire.com list of "Top 300 Most Influential Advisors in Defined Contribution." He is the founding lecturer of The Retirement Advisory University in cooperation with UCLA's Anderson School of Management and has over 35 years of industry experience.
Topics of discussion on the agenda for the 2013 Mid-Atlantic Fiduciary Summit include: everything a fiduciary needs to know for 2013, evaluating plan performance, maximizing vendor negotiations, avoiding the "target date" time bomb and benchmarking investment advisor services and fees. Additionally, the event features a professional advisor panel including David Levine, Principal at Groom Law Group, and Chairman of IRS Advisory Committee.
Event Information
The summit will be held at The Tysons Corner Marriott on March 14th from 11:00 a.m. to 2:30 p.m. The conference is open to the first 50 plan sponsors and the $150 registration fee will be waived on a limited basis (for the first 15 respondents). The 2013 Mid-Atlantic Fiduciary Summit is approved for 3 CPE/CPA Credits and 3 HRCI/SPHR/ PHR/GPHR General Credits. For more information about the conference or to RSVP, Visit Our Events Page or contact Jon Freye at 619.795.3920.
About 401(k) Advisors
401(k) Advisors provides independent retirement plan consulting services to major and mid-sized private and institutional plan sponsors, and currently oversees over $14 billion in assets under advisement. The firm is recognized for best practices in retirement planning, investment due diligence, vendor service and fee benchmarking, compliance processes, and education for sponsors and participants.
401(k) Advisors: 120 Vantis, Suite 400, Aliso Viejo, CA 92656 949.460.9898 / 800.959.0071 / http://www.401kadvisors.com
Securities offered through Financial Telesis, Inc. Investment Advisory Services offered through 401(k) Advisors. Financial Telesis, Inc. is not an affiliate of 401(k) Advisors.
About Xponential Growth Solutions
Xponential Growth Solutions (http://www.xgrowthsolutions.com) unites 401(k), 403(b), and Retirement Plan Sponsors with elite resources and exclusive connections. XGS training and educational summit opportunities present a forum to empower sponsors to help America reach their retirement goals one retirement plan at a time.
Xponential Growth Solutions
110 West C St Suite 2001
San Diego, CA 92101
619.795.3920