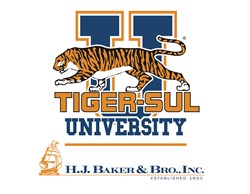 WESTPORT, CT USA (PRWEB) February 06, 2013
Brad Miller, the Supply Chain Manager for H.J. Baker's Tiger-Sul Products (Canada) Co. subsidiary will lead an agriculture webinar on "The Basics of Safely Handling Sulphur Fertilizer Products." Attendees will learn best practices to reduce or eliminate hazards associated with processing or handling mixtures containing sulphur by providing reasonable health and safety protection of employees and property.
Brad Miller has worked in the sulphur industry for 25 years and is a member of the Canadian Society of Safety Engineering. His professional certifications include a Diploma in Occupational Health and Safety and experience as a Certified Health and Safety Auditor in the petroleum industry. He previously was an instructor of the "H2S Alive, Workplace Hazardous Materials Information System," and "Transportation of Dangerous Goods" programs.
Topics will include:
Safety in the Workplace

Approved Codes of Practice
Employer's & Employee's Responsibilities
Training
Financial Benefits
Hazard Information

Dust Characteristics
Personal Protective Equipment
Handling Sulphur Safely

General Safety Information
Equipment Design
Operating Procedures
Maintenance & Housekeeping
The webinar will be held live February 20th at 2:00 pm CST and will last approximately 45 minutes. The live event will include a question and answer session. Participants can register at http://www.tigersul.com.
H.J. Baker & Bro., Inc. is a name that is synonymous with quality agriculture for more than 160 years. With more than 20 locations throughout the United States, Canada and Mexico, H.J. Baker has been mobilizing resources and providing outstanding products and services to the agriculture industry throughout the world. The company's strategically located processing plants, offices and warehouses create a super-efficient pipeline for the vital commodities and products that it sources, manufactures and markets. H.J. Baker & Bro., Inc. is headquartered in Westport, Connecticut USA.
Tiger-Sul Products (Canada) Co. is a wholly-owned subsidiary of H.J. Baker & Bro., Inc. Tiger-Sul Products is a global leader in Sulphur Bentonite, Sulphur Bentonite Micronutrients technology, and other well-established fertilizer products with over 40 years of operational excellence. TIGER®, TIGER 90CR® and TIGER MICRONUTRIENTS® are registered trademarks of Tiger-Sul Products in the United States, Canada.
For more information on H.J. Baker & Bro., Inc. visit their website at http://www.bakerbro.com.