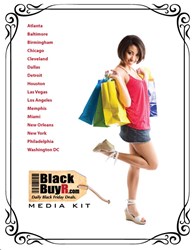 Houston, Texas (PRWEB) February 04, 2013
BlackBuyr.com gives a warm welcomes new featured advertiser, 'Author' Martha Kennerson – of Houston, Texas, United States, phone: 512-944-0514
Mrs. Kennerson is the Author of 'Choices' is a novel about irrevocable love, unbridled passion, devastating loss, a horrific act of violence and survival! Eighteen-year old Kristine is beautiful, smart and driven. She's focused and doesn't make stupid mistakes. In fact, she's been accepted to one of the most prestigious universities in the country as a sophomore. So why is she waking up naked in a strange bed with a couple she barely knows? It all starts when she takes a post-graduation trip where she falls in love with a man that can never be hers. His rejection sends her spiraling out of control and she ends up in a situation where the worst possible thing that can happen, happens to her.
Check out: http://www.marthakennerson.com
Founded in 2012, http://www.BlackBuyr.com currently operates as an online coupon shopping guide for all users in 16 United States cities; Atlanta, Baltimore, Birmingham, Chicago, Cleveland, Dallas, Detroit, Houston, Las Vegas, Los Angeles, Memphis, Miami, New Orleans, New York, Philadelphia, and Washington DC.
BLACKBUYR.COM is updated daily to ensure that its visitors have the most current tabs on their favorite sale items, news, and personal information. Social media will include; Facebook, Twitter, You Tube, Linkedin, etc.
BLACKBUYR.COM goal is to become the leading provider of African-American B2C coupon based shopping services and information over the Internet. BLACKBUYR.COM products & services make shopping easy to locate, browse, and buy from local businesses. In short, BLACKBUYR.COM will offer and distribute, fine quality products and services, safe, quickly & cost effectively for Internet users.
BLACKBUYR.COM users will discover other online services such as; entertainment news, sports news, chat ability, employment, real estate news, coupon shopping, and business news. Visitors will be able to shop a given product or service at 24/7 any time of the day, over and over with the click of the mouse.
Don't forget to tell everyone that you saw them in BlackBuyr.com
For BlackBuyr.com advertising inquiries please contact advertise(at)blackbuyr(dot)com
# # #