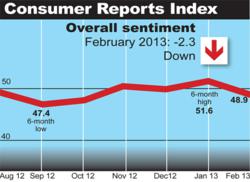 Consumers have not rebounded with the arrival of the new year. Middle-income Americans were particularly hard hit this month and appear to be losing ground.
YONKERS, NY (PRWEB) February 05, 2013
The Consumer Reports Index, an overall measure of Americans' personal financial health, showed consumer confidence is off to sluggish start in 2013, according to the February report.
The Consumer Reports Index sentiment measure declined for February dropped to 48.9 from 51.2 the prior month. The most pessimistic consumers remain Americans in households earning less than $50,000 (dropping to 45.6 from 50.0 the prior month). Concurrently, sentiment levels of middle-income families ($50,000 to $99,000) also dropped 5.4 percentage points from 55.6 to 50.2 this month.
One of the driving factors in the sentiment change was an increase in the levels of financial difficulties for middle-income Americans. The Consumer Reports Index's Trouble Tracker, which measures the scale and frequency of financial woes that Americans face, climbed 32.7 to 37.5 for middle-income consumers while troubles stabilized among both upper- and lower-income households. Two troubles that rose most over the past 30 days among Americans were missed payments on a major bill (other than mortgage), and being unable to afford medical bill or medications.
Retail spending among wealthier consumers continues to flounder. The Consumer Reports Index's past 30-day retail measure, reflecting January activity, fell versus one year to 10.5 from 11.8. The decline in past 30-day spending was most pronounced among those in households earning $100,000 or more. Planned spending for the next 30 days, reflecting potential February activity, was also weak at 6.7, down from both the prior month and one year ago, and at its lowest level since April 2009 (6.7).
"Consumers have not rebounded with the arrival of the new year. Middle-income Americans were particularly hard hit this month and appear to be losing ground. It's hard to imagine a scenario that will create significant improvements in confidence until consumers feel there has been a substantial upturn led by employment," said Ed Farrell, director of consumer insight at the Consumer Reports National Research Center.
The Consumer Reports Index employment measure halted two months of decline, rising slightly to 49.4 from 48.8 a month earlier, but consumers are reporting more jobs continue to be shed than created, with job losses (5.5%) outpacing job gains (4.4%). Job starts in the past 30 days improved slightly, rising to 4.4 percent from 3.4 percent a month earlier, while job losses remained elevated and unchanged from last month.
The Consumer Reports Index report, available at http://www.ConsumerReports.org, comprises responses directly from consumers on five key measures: the Sentiment Index, the Trouble Tracker Index, the Stress Index, the Retail Index and the Employment Index.
The Consumer Reports Index, conducted by the Consumer Reports National Research Center, is a monthly telephone and cell phone poll of a nationally representative probability sample of American adults. A total of 1,011 interviews were completed (661 telephone and 350 cell phone) among adults aged 18+. Interviewing took place between January 24 and 27. The margin of error is +/- 3.2 percentage points at a 95% confidence level. The complete index report, methodology and tabular information are available. Contact: C. Matt Fields, 914-378-2454, CFields@consumer.org
— 30 —
FEBRUARY 2013
© 2013 Consumer Reports. The material above is intended for legitimate news entities only; it may not be used for advertising or promotional purposes. Consumer Reports® is an expert, independent nonprofit organization whose mission is to work for a fair, just, and safe marketplace for all consumers and to empower consumers to protect themselves. We accept no advertising and pay for all the products we test. We are not beholden to any commercial interest. Our income is derived from the sale of Consumer Reports®, ConsumerReports.org® and our other publications and information products, services, fees, and noncommercial contributions and grants. Our Ratings and reports are intended solely for the use of our readers. Neither the Ratings nor the reports may be used in advertising or for any other commercial purpose without our permission. Consumer Reports will take all steps open to it to prevent commercial use of its materials, its name, or the name of Consumer Reports®.