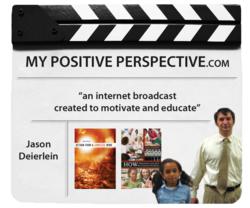 We have a lot of musical talent here in Charleston
Charleston, SC (PRWEB) February 05, 2013
On February 5, 2013, published author Gia Giles was the host of My Positive Perspective as regular host Jason Deierlein answered questions posed to him about the company's partnership with Internet Radio Station Kinetic Hifi. When Giles asked Deierlein about how the partnership came to happen, Deierlein replied, "Both companies are in their infancy stages. We have both been successful enough to realize exactly how difficult this venture is. This move makes sense for both of us because it will allow our companies to be more versatile in how we can deliver our product."
My Positive Perspective founder Jason Deierlein also wanted to add in that "Successful companies must be willing to try new things. One of the new things this allows for is the ability to host live concerts." Deierlein will be the emcee from the radio's perspective and will be speaking with the musicians during their breaks.
Giles noted that the concept was "fun and interesting" and that this would something the two companies would enjoy doing. Deierlein agreed adding that "We have a lot of musical talent in this city, and what we are trying to do with this new partnership is enhance the recognition of the musicians, and at the same time, increasing the reach of our companies."
My Positive Perspective is an internet talk show created for the purposes of overcoming adversity. We educate and inspire in many different ways and talk about different types of obstacles, but the ultimate goal of this business is to spread positively and strengthen wherever there is a weakness or tragedy to overcome. I myself survived a car accident, coma, and painful rehabilitation. I consider myself lucky to be here and providing the public with this free service. This company is kind of my gift to myself for achieving. The one thing you never lose after surviving a tragedy is desire to help.