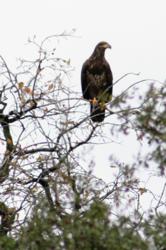 Due to its low elevation in the foothills, Eastman Lake provides habitat for an impressive diversity of bird species, especially in the winter
Madera, CA (PRWEB) February 05, 2013
Birding enthusiasts or nature lovers in general may wish to head over to Eastman Lake on the second Saturday of each month through April for a chance to spot numerous species of birds according to the Yosemite Sierra Visitors Bureau.
Eastman Lake is located in the foothills of Madera County almost equidistant between the city of Madera and the town of Coarsegold and is home to a large number of bird species, according to Ranger Andy Steele of the US Army Corps of Engineers, the agency responsible for the lake.
"Due to its low elevation in the foothills, Eastman Lake provides habitat for an impressive diversity of bird species, especially in the winter," he said.
"Bird walks at Eastman often explore oak woodland, grassland, riparian and lake habitats all within a few hours."
Groups who took the January excursion observed 45 different species, including bald and golden eagles, American kestrels, several woodpeckers and many more. Even more species are expected on the March and April walks.
The walks start at 9 am at the Chowchilla boat ramp in the day-use area and last for about two hours. There is a $4 day use fee and the walks will take place rain or shine.
For more information, contact Ranger Steele at 559-689-3255.
# # #