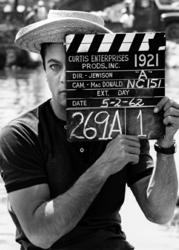 Film Today is a great reference tool for indie and studio film news and reviews.
New York, NY (PRWEB) February 06, 2013
As the 63rd International Berlin Film Festival commences, world renowned stars and filmmakers get set to stride and glitter the red carpet followed by their dedicated fans, who will eye every single intricate detail, either live or real-time, using many of the trusted tools which the 21st century has to offer.
The boundaries between fiction and documentary are getting thinner and filmmaker / Auteur Wong Kar Wai, who presides over the festival's Jury this year, discusses some of it in his interview.
Film Today, Mighty Mack's popular entertainment news App, announces the release of version 2.7. Since the App entered the marketplace, it proved to be a great way to stay informed on Festival news, reviews, and interviews. It is the mobile lifeline to all the professional entertainment industry news and stories. "This handy App lets me stay on top of all the news -- real-time -- in a way that's simple, fun, and useful." said Greg M, a long-time festival attendee and user.
Film Today amasses entertainment news from reliable sources, giving the user a quick and accessible way to follow the trades, news outlets and popular opinions.
The Film Today App brings articles pulled from customized lists of publications, journalists, trades and opinion leaders for each subject channel. Mighty Mack continuously monitors and adjusts the source lists to include new sources and publications as well as notable voices of opinion columnists.
Film Today gathers its sources into the following sections:

Film Industry News and minute-by-minute updates
Box office estimates and the performance of new releases
Studio news including new positings, appointments and announced films
Comments and insights from industry personalities
Festival news and gossip, including reaction to premieres and acquisitions.
Indie film highlights, reviews, and performances.
Features and requirements
Compatible with iPhone 3G, 3GS, 4, 4S and 5
iPod touch
iPad non-retina and retina
Requires iOS 4.3 or greater
Easily share your favorite news with friends via Email, Facebook and Twitter.
Film Today is published by Mighty Mack and available today at bit.ly/film-news
Mighty Mack is a leading publisher of distinguished digital products for the consumer and professional markets. The Company leverages newly available digital tools to create, design, and share new ways of consuming information and experiencing the world around us. The company has released a variety of best-of-class Apps, including Advertising Today, Science Today, Where2Boss?, Agora Briefcase, Breaking News, Film Today, among many others.
To learn more about MightyMack please visit their website at http://www.mightymack.com or email them to press(at)mightymack(dot)com.