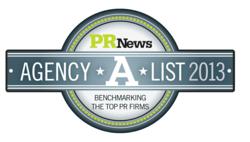 (PRWEB) February 05, 2013
PR News' inaugural Agency A-List Awards showcases the top PR agencies setting benchmarks of excellence in all client efforts. This awards program is open to agencies in the United States and Canada of all sizes, including sole practitioners. The entry deadline is March 15, 2013 and winners along with honorable mentions will be recognized in September 2013 in New York City.
For more information on PR News' Agency A-List Awards, visit http://www.prnewsonline.com/AgencyAwards2013/.
The Agency A-List Awards honor outstanding agencies based on overall performance and outcomes. Participants enter online through a user-friendly awards portal. This awards program will also shine the spotlight on the professionals raising the bar on creativity, strategy and execution for his or her agency. Entrants can nominate their peers or themselves by entering the Agency People "Awe" category.
To enter online, visit http://www.prnewsonline.com/AgencyAwards2013/.
Winners and honorable mentions will be awarded in the following:
By Practice Area:
•Advocacy
•‪Branding
•‪Business to Business
•‪Cause/CSR
•‪Community Relations
•‪Consumer Marketing
•‪Content Marketing
•‪Crisis Management
•‪Digital/Social Media
•‪Financial Communications
•‪Integrated Communications
•‪Issues Management
•‪Labor Relations
•‪Marketing Communications
•‪Marketing to Youth
•‪Marketing to Women
•‪Marketing to Latinos
•‪Measurement/Evaluation
•‪Media Relations
•‪Media Training
•‪Multicultural Marketing
•‪Nonprofit/Association
•‪Public Affairs
•‪Product Launch
•‪Publicity
•‪Reputation Management
•‪Search Engine Optimization/Marketing
•‪Word of Mouth/Viral
•‪Writing/Editing
PR Agency Internal and Promotional Categories:
•Best Training/Education Program
•‪Diversity Initiatives
•‪Proprietary Software/Client Solutions
•‪Promotion of Firm (marketing, advertising, PR)
•‪Internal Communications
•‪Web site
•‪Community Relations/Volunteer Programs
People Category:
•‪Agency People "Awe" Awards
For more information, visit http://www.prnewsonline.com/AgencyAwards2013/.
PR News' Agency A-List Awards is a great opportunity for organizations to get noticed for their outstanding initiatives and the individuals driving their success.
For questions regarding the Agency A-List Awards, contact PR News Marketing Manager Laura Snitkovskiy at laura(at)accessintel(dot)com. For sponsorship and exhibit information, contact PR News Senior Vice President & Group Publisher Diane Schwartz at dschwartz(at)accessintel(dot)com.
The PR News family of products also includes the weekly PR News publication, The Digital PR Summit, Media Relations Forum and PR Measurement Conference, PR Webinars and Workshops, PR Guidebooks, Platinum PR Awards, PR People Awards, Nonprofit Awards, 15-to-Watch and more. Visit PR News online at http://www.prnewsonline.com.
###