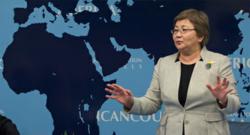 Her Excellency Otunbayeva's legacy and contributions to the world will be remembered forever.
Washington, DC (PRWEB) February 07, 2013
At the end of her weeklong tour of the U.S., Her Excellency Roza Otunbayeva, Former President of the Republic of Kyrgyzstan, visited with American Councils for International Education at their Washington, DC, office location to share her experience on leading one of Central Asia's most progressive countries. In the presence of American Councils staff, Kyrgyz dignitaries, and a host of colleagues and friends, she briefed the group on her political experience, shared her perspective on the role of international education as a tool for societal change, and reaffirmed the premise that Kyrgyzstan will emerge as a world leader across a multitude of industries. Those in attendance, many of which had worked with the Kyrgyz leader, were moved by her inspirational words.
Dr. Dan E. Davidson, President of American Councils, introduced the Former President and shared his history of working with her over the years. He underscored her remarkable leadership guiding Kyrgyzstan through Central Asia's first peaceful and constitutional transition of power, and referenced her distinguished work to build strong ties and mutually beneficial relationships between the U.S. and the Kyrgyz Republic. "The present exchanges between the United States and Kyrgyzstan are good and strong, but they are not quite as large as they were during your years as President. You contributed to such high exchange numbers during your time in office," stated Dr. Davidson to Her Excellency Otunbayeva.
In her keynote, Former President Otunbayeva highlighted significant events that have occurred in Kyrgyzstan over the last two decades, mentioning significant milestones that the country has accomplished economically, politically, and socially. She discussed the current state of the Kyrgyz Republic, shared stories of her history and Presidency, expressed her hopes for Kyrgyzstan's future, and stressed the benefits of a parliamentary government in contemporary Central Asia. She underscored the strategic global partnerships that Kyrgyzstan is forming in order to enhance their programs and expertise in fields including science, technology, math, and engineering. Additionally, she previewed one of her latest initiatives focused on early childhood development—a foundation aimed to improve the literacy rates of Kyrgyz youth.
To conclude, the Former President encouraged continued collaboration between Kyrgyzstan and the U.S., remarking upon the prosperous, long-term relationship that exists between the two nations. "The U.S. has embraced Kyrgyzstan and has opened many doors for us. We are thankful for your contributions and for your efforts to help our country," she said. Following her remarks, Dr. Davidson accentuated the success of American Councils' international exchange programs in Kyrgyzstan, commenting, "our Legislative Interns Program is very popular in Kyrgyzstan. During your Presidency, you very kindly received some of our interns in the President's office. The Legislative Interns Program is one of our many valuable programs, with young program participants who are interested in a career in government. Thank you for helping to positively shape their perspectives on public service."
Her Excellency Otunbayeva's legacy and contributions to the world will be remembered forever. American Councils is honored to have worked with such a formidable leader and looks forward to a long-standing friendship together.