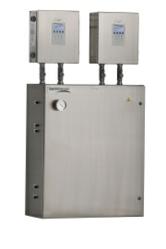 Houston, TX (PRWEB) February 05, 2013
SpectraSensors will participate in the Corpus Christi Area Measurement Society (CCAMS) Hydrocarbon Measurement School in Corpus Christi, Texas on February 19 - 20, 2013. The two-day school will consist of over 50 lecture and hands-on classes dealing specifically with natural gas, refined products, crude oil measurement and product quality testing. The instructors are some of the most knowledgeable in their field.
Sam Miller, Director of Product Line Management, Natural Gas at SpectraSensors, is presenting two papers during the CCAMS School. On Tuesday, February 19 at 1:00 pm, Miller will discuss the Fundamentals of Natural Gas Quality.
Miller's second class is Wednesday, February 20 at 10:30 am. He will address Measuring Contaminants in Natural Gas Streams.
In addition to leading classes, SpectraSensors will display their 3-Pack H2S analyzer system and moisture analyzers. Attendees can visit the SpectraSensors booth to learn more about their solutions for natural gas quality measurements.
More information: http://www.spectrasensors.com
CCAMS: http://events.r20.constantcontact.com/register/event?oeidk=a07e6i4yzid7800f928&llr=758runkab
About SpectraSensors, Inc.
SpectraSensors is a leading manufacturer of optically based moisture analyzers and H2S analyzers for analytical process markets. SpectraSensors uses Tunable Diode Laser Absorption Spectroscopy (TDLAS) in an array of products such as Ambient Air Monitoring Analyzers, Moisture Analyzers (Hygrometers) and Gas Analyzers for Natural Gas Pipelines and Processors, Petrochemical Refineries and Chemical Companies.
SpectraSensors Gas Analyzers measure: Moisture (H2O), Carbon Dioxide (CO2), Hydrogen Sulfide (H2S), Oxygen (O2) and more.
###