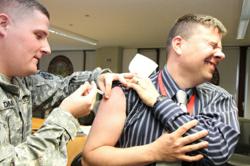 There's not really a price that can be put on this, but if you could it will be well under the cost of a flu shot
EL SEGUNDO, CA (PRWEB) February 05, 2013
The 2013 flu season has descended on many American communities, and it's a doozy; the Center for Disease Control reported that the percentage of deaths attributed to pneumonia and influenza has exceeded the epidemic threshold, according to a January 26, 2013 report.
Despite the serious public health concerns, however, many consumers won't take preventive measures, such as getting a flu shot, due to the cost and inconvenience. In fact, a recent study from Tulane University found that the more expensive a medicine, consumers are more likely to underestimate their risk of catching the illness it treats or prevents, according to a January 3, 2013 press release. But does dodging the flu shot cost really save money?
Go Banking Rates investigated the cost of battling a bout of influenza, looking into the price of missed work and wages, doctors' visits and healthcare, and the increased health risks and compared this with the price of a flu shot to find which was more cost-effective.
"The cost of getting a flu shot might have nothing to do with the cost of missing work or of the shot itself, and everything to do with avoiding the unpleasant symptoms associated with getting the flu," says Go Banking Rates expert contributor, Nicholas Pell. "There's not really a price that can be put on this, but if you could it will be well under the cost of a flu shot."
Go Banking Rates' consumer report includes information on the cost of flu shots, where to receive them, and health insurance plan coverage to help consumers decide if what they would pay for a flu shot would be worth their money.
Click here to read the full report on flu shot costs.
About Go Banking Rates
GoBankingRates.com is a national website dedicated to connecting readers with the best interest rates on financial services nationwide, as well as informative personal finance content, news and tools. Go Banking Rates collects interest rate information from more than 4,000 U.S. banks and credit unions, making it the only online rates aggregator with the ability to provide the most comprehensive and authentic local interest rate information.
Additionally, Go Banking Rates partners with a number of major media outlets such as Business Insider and US News & World Report to provide compelling and edifying personal finance content, and its expert editors have been featured and quoted on several premier finance websites like Yahoo! Finance, Forbes, The Street, Huffington Post and more.
GoBankingRates.com belongs to a network of more than 1500 finance websites, including GoInsuranceRates.com and GoFreeCredit.com. These sites receive more than 2 million visits each month.
For questions or comments, please contact:
Jaime Catmull, Director of Public Relations
Go Banking Rates
JaimeC(@)GoBankingRates(dot)com
310.297.9233 x261
###