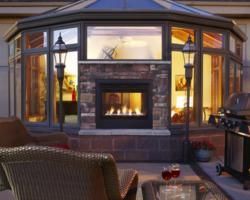 "We are honored to be recognized by NAHB with this prestigious award" - Becky Upton, brand director for Heat & Glo.
MINNEAPOLIS, Minn. (PRWEB) February 05, 2013
The Heat & Glo® Twilight Modern indoor/outdoor gas fireplace received top honors from the National Association of Home Builders (NAHB) as the winner of the Best of Show Award in the Outdoor Living category at the International Builders' Show (IBS) in January.
Winners were chosen by an independent judging panel made up of editors and building professionals. Products with the best combination of design, functionality and innovation were recognized in five categories: Best Home Technology, Best in Outdoor Living, Best Indoor Feature, Best Kitchen or Bath Product, and Overall Best in Show.
The Twilight Modern is a two-sided gas fireplace that combines two megatrends; contemporary design and outdoor living. The see-though design provides impressive fireside views from both inside and outside the home, doubling the ambiance and enjoyment from one fireplace. It features sleek contemporary styling with flames that rise through modern media and reflect on a black porcelain firebox. Because it's a closed system, the Twilight Modern provides a safe environment for enjoying fires within an arm's length on outdoor patios, decks or terraces.
"We are honored to be recognized by NAHB with this prestigious award," said Becky Upton, brand director for Heat & Glo. "For homeowners, the Twilight Modern is really two contemporary fireplaces in one that can be enjoyed whether relaxing inside or socializing outside. And for builders and remodelers, one routine and cost effective installation produces two 'wow' factor selling points."
The Twilight Modern uses Direct Vent technology and innovative engineering to deliver a unique fireside experience—and a powerful 38,000 BTUs. The unit splits the exterior wall of a home and can be installed flush with the inside or outside wall. It's rated as a fireplace and exterior window and requires no additional flue or vertical venting, simplifying installation.
"This year's International Builders' Show featured an impressive line-up of more than 900 exhibitors representing all facets of the building industry," said Lynne Pratt, NAHB Conventions and Meetings Committee Chair. "The Best of IBS Awards recognize those exhibitors that really stood out in terms of product innovation and design, and we were thrilled to be able to award them for their creativity and vision."
Learn more about the Twilight Modern here. High-resolution photographs are available by contacting the Heat & Glo Public Relations Department at the contact info above.
About Heat & Glo®
Heat & Glo has been the industry leader in style and innovation since its inception by brothers Ron and Dan Shimek in 1975. The brand pioneered direct vent gas technology in 1987 and revolutionized the way fireplaces operate in the years that followed. Today, Heat & Glo continues to develop unmatched technologies, materials and designs in a full lineup of gas fireplaces, inserts and accessories. The brand is headquartered in Lakeville, MN and a member of Hearth and Home Technologies (HHT). For more information, please visit http://www.HeatnGlo.com.
About Hearth and Home Technologies®
Hearth and Home Technologies (HHT), headquartered in Lakeville, MN, is a leading technology developer, manufacturer and supplier of fireplaces, stoves and inserts. The company serves residential and commercial applications, and is also a manufacturer of hearth products, including mantels, surrounds and more. HHT thrives on continual innovation and strives to incorporate the latest designs and technology. The company carries the industry's best and most-recognized brands, including: Heat & Glo, Heatilator, Quadra-Fire, Harman, SimpliFire and Outdoor Lifestyles. HHT also manages Fireside Hearth & Home retail stores and builder design centers. More information can be found online, at http://www.hearthnhome.com.
###