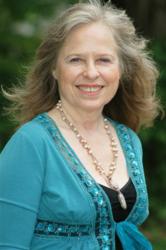 The plants give us incredible doorways for our clients to receive tremendous healing.
Margaretville, New York (PRWEB) February 06, 2013
Journeys with Plant Spirits at the Blue Deer Center provides an experience of the spiritual energies of each season from the perspective of the plant spirits. In these workshops plant spirits will open a doorway to connect people with the natural cycles of life. Through simple journeys to plant spirits we can feel in our emotions and dreams our deeper connection with nature, each other, and the Divine.
Safia Johnson has been a Plant Spirit Medicine healer for over 14 years and is also a Clinical Consultant in the PSM Seminary. She resides in Kingston, NY. She teaches workshops on Plant Spirit Medicine and is a presenter at annual conferences.
Hear Safia talking about "Journeys..." in 2012 on WIOX Radio.
On April 13th, in "Journeys with Plant Spirits" Safia will bring participants on a journey to explore the energies of Spring.
Spring is a wonderful season for meeting with plant spirits, as the plants themselves have been nurtured by the waters of winter and are bursting forth from the ground to bloom and bear fruit to fulfill the destiny contained in their seed. Our plant spirit teachers at this time can give us guidance about our creativity and clarity around decision-making processes. The workshop will examine what we want to give birth to and help us tune in to personal visions.
From the viewpoint of Plant Spirit Medicine, each season brings a unique perspective in how to live our lives in a good way.
In Summer, we can feel the warmth of the sun in our bodies and the joy of life in our hearts. We open to this energy through the joy of connecting with our plant spirit allies and with each other, sharing from our hearts about our relationships with our families, friends and our love of Divine.
Late Summer is the time of harvest and abundance. During this time we nurture ourselves and give thanks for the many gifts of our plant allies and the endless bounty provided to each of us by our mother earth. In this time of shortening daylight, we explore our relationships with those who have nurtured us in countless ways and with those whom we, in turn, nurture.
In our search for inspiration and soul renewal, we turn to Autumn, a time for breathing in heavenly chi to assist in letting go of what no longer serves us. We can use the energy of this season to reflect on what truly brings value to our lives.
Winter is a time for slowing down, reflection and tapping into the subtle flow and direction our lives are taking us. We can use the energy of this season to find the peace of listening to our heart's voice. In this season, we water the seeds of the next cycle of our lives and find the will to align with our purpose.
Blue Deer Center provides an important setting for teachings and practices that promote balanced relationship with the natural world. They particularly welcome ancestral approaches to healing, ritual, and retreat. The Center's origins are rooted in the Huichol shamanic tradition and living connection to the universal and sacred spirit of fire.