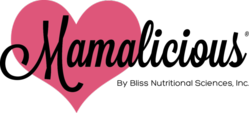 "I used to make Mamalicious just for myself, but so many other moms asked me to make it for them that I decided to make it for all women…pre-pregnant, pregnant, breastfeeding," says Aimee Rickabus, co-founder of Bliss Nutritional Sciences
Orange County, CA (PRWEB) February 06, 2013
Bliss Nutritional Sciences—a company dedicated to the research and development of cutting edge, nutritional products based on the emerging science of epigenetics and nutrigenomics—has launched Mamalicious®, its flagship product line and a novel nutritional supplement specifically formulated for women of childbearing years. The product and company were created by clinical pharmacist Dr. Sharon Roddan and her daughter, Aimee Rickabus, in direct response to the market need for superior pre- and post-natal supplements and premium functional foods for women. Dr. Roddan was born with Spina Bifida, thought to be caused by a lack of adequate folic acid (a B vitamin) in her mother's diet. Women who have had Spina Bifida are at greater risk of having a future affected pregnancy. Healthful diets with adequate folate may reduce a woman's risk of having a child with a brain or spinal cord defect.
Mamalicious is a nutritional drink mix for moms and moms-to-be that comes in Vivacious Vanilla and features protein, vitamins, minerals, and super foods, which, in conjunction with a healthy diet, support fetal and maternal health. Gluten-free and sweetened with stevia, Mamalicious is only 90 calories per serving and includes 10 grams of organic brown rice protein, folic acid, B vitamins, calcium, EpiFactors™, FloraFactors™, DigestFactors™, and many other nutritious ingredients.
About the Science
Mamalicious harnesses the science behind epigenetics and nutrigenomics. What a mom eats before and during pregnancy can affect the health of her child.
The DNA in our bodies is fixed for life. But wrapped around the DNA is a structure is called the epigenome. The epigenome changes in response to environmental factors, like diet and stress. So a healthy diet is extremely important for healthy moms and babies. Unborn babies, however, don't have that choice. They are affected by the choice their moms make for them, whether they like it or not. This is where Mamalicious can make a difference—by boosting nutrition during this most important time for both women and their unborn children.
"I used to make Mamalicious just for myself, but so many other moms asked me to make it for them that I decided to make it for all women…pre-pregnant, pregnant, breastfeeding, and those who just want more energy," says Aimee Rickabus, co-founder of Bliss Nutritional Sciences. "Since my own mom is a pharmacist, she worked with me to create a very delicious, very easy to use, nutritional beverage. Mamalicious is an simple way to make moms happier and babies healthier."
"It's amazing how much research and superfoods we stuffed into a can already filled to the brim with love," notes Dr. Sharon Roddan, Rickabus' mother and the company's other founder. "By leveraging the science of nutrigenomics, we can help moms and babies lead healthier lives."
The Mamalicious brand is trademarked in 39 countries and three languages. Additional Bliss Nutritional Sciences' products, which include supplements providing nutritional support for fathers, children, and seniors, will be released later in 2013. For more information, please visit http://mymamalicious.com or http://www.BlissNS.com.
About Bliss Nutritional Sciences
Bliss Nutritional Sciences, Inc., was founded by Aimee Rickabus and her mother, Dr. Sharon Roddan, a clinical pharmacist who was born with Spina Bifida. The company is dedicated to the research and development of cutting edge, nutritional products. Mamalicious® is the company's flagship product. The Mamalicious line contains whole food compounds and is based on the teachings of pioneer nutritionists and modern nutrigenomic science. When used in combination with a normal healthy diet, Mamalicious will support a woman's health prior to conception, through pregnancy, lactation, and post-partum.
Beyond the science, Bliss Nutritional Sciences believes that what women eat is important for the health of future generations because "Mothers are the Ultimate Bodybuilders™." In a world filled with unhealthy temptations, Mamalicious® gives women delicious and nutritious options. For more information, please contact Jeannine Jacobi of Fresh PR at (310) 857-6994 or jeannine(at)freshpr(dot)net or visit http://mymamalicious.com or http://www.BlissNS.com.