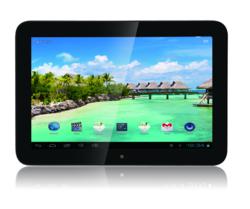 Newport Beach, CA (PRWEB) February 05, 2013
Idolian Mobile, a leading manufacturer and distributor of portable android tablet pc and accessories, announced today that it has partnered with two major brands, one in each education and business, to provide them with hundreds of high-quality, low-cost tablet PCs and accessories for their use in the professional and classroom setting.
Edelbrock, LLC, and the McDonnell International Scholars Academy recently joined Idolian's roster of clients that includes hundreds of schools, businesses, government agencies and thousands of individuals.
Edelbrock, a specialty performance automotive and aftermarket parts manufacturer based in Torrance, California, will implement Idolian's tablets into its business operations to create efficiencies and drive production throughout its facilities.
The McDonnell International Scholars Academy at Washington University in St. Louis is partnering with Idolian to offer its international students tablet PC technology for their use while enrolled in school's academic programs. The academy provides academic, cultural and social opportunities to help scholars develop into future leaders knowledgeable about the United States, other countries of the world and critical international issues.
"Idolian Mobile is honored to have been selected by two of the most recognized names in their respective industries, and we'll continue to take seriously our charge of providing the best, high-performing, cost-efficient technology so our clients are able to surpass their expectations and objectives," said Jay Kim, founder and president of Idolian Mobile. "It's always a privilege to be part of our client's objectives of enhancing their programs and services, and it's a testament to our technology's capabilities that organizations across the spectrum – in private, nonprofit, education or government settings – choose us to build their programs."
Idolian Mobile offers a full line of android tablet PC s and accessories wholesale directly to consumers, businesses, educational entities and government agencies. Idolian provides significant discounts on tablets for educational entities and businesses.
Idolian Mobile continues to be pursued by major brands, educational entities and government agencies because of its high-quality, performance and low-cost technology. Additionally, Idolian provides an alternative to vendors who seek a certain level of customization as opposed to receiving stale out-of-the-box tablets.
Idolian Mobile's offerings also include tablet PC accessories, such as cases, charger cables, keyboards, storage devices and screen protectors, which are available through the company's website, Idolian.com. Free shipping is available on all orders.
Each of Idolian's devices, including the hundreds purchased by McDonnell International Scholars Academy and Edelbrock, come with one-year limited warranties serviced in the U.S. Idolian also offers extended warranties and protection plans for sale only on Idolian.com.
For more information about Idolian, visit http://www.idolian.com or email support(at)idolian(dot)com.
About Idolian Mobile
Founded in 2010 and headquartered in Newport Beach, California, Idolian Mobile is a supplier of tablets and tablet accessories. Idolian.com is a division of Idolian Mobile Inc., a global wholesaler and retailer of tablet personal computers. Idolian provides discounted tablet PCs to customers worldwide.