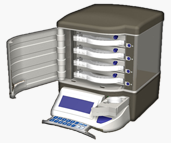 Pittsburgh, pa (PRWEB) February 06, 2013
Humans are living longer in part to the quality and strength of modern medications. Sadly, these powerful medications can become toxic if they are taken incorrectly and can cause severe problems if a dose is missed. Pittsburgh-based medical alert company Automated Security Alert has a mission to help seniors and physically-challenged persons to stay in their own homes for as long as possible, and one of the most effective methods they have to accomplish that is with monitored medication dispensers. Being able to properly adhere to a medication schedule is critical to a person's health and well-being, and for many it is the difference between staying at home and moving into assisted living or a nursing facility. According to the Automated Security Alert website, the MedPro Plus model has helped some persons in assisted living move to independent living, saving them over $2,000 a month.
Jason Seyler, Automated Security's Director of Life Safety is very excited about the line of monitored medication dispensers. He said, "Medication management is necessary for anyone who has a pill regimen. With the MedPro and MedPro Plus you will always take the right dose at the right time." In addition to the MedPro and the MedPro Plus, the company also offers the Dispense-a-Pill. Once a caregiver fills the dispenser, the dispenser will release the correct dose of medication at the right time, and alert the patient with a flashing light and an alarm that will continue to remain activated until the patient removes their medicine from the dispenser. Some of the company's more advanced medication alarms store not only pills, but liquid medication, insulin, creams, lotions, and eyedrops.
For further information, please contact Matthew Couillard at 1.800.338.7114.
# # #