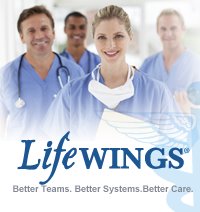 Our view is that if your staff go to any meeting about safety or quality and say nothing, it would have been better if they hadn't gone at all.
Collierville, TN (PRWEB) February 13, 2013
Patients safety improvement company, LifeWings, understands that everyone hates wasteful meetings where nothing gets done. Research by the 3M corporation estimates that up to 50% of time spent in meetings is wasted. It doesn't have to be that way. Organizations can now meet for no more than 50 minutes and walk out of the room feeling energized, peaceful, productive, and knowing that every minute was valuable and that the team has moved the ball forward.
In every LifeWings patient safety initiative with their hospital partners, they train the leadership team how to manage the TeamSTEPPS or CRM implementation by using a series of short (no more than 50 minutes) monthly meetings. These meetings are so effective that within three or four months, they can be conducted once every two months, or even once per quarter.
LifeWings has produced the following guidelines for conducting these meetings (Sample Agenda and Minutes)
1. Produce and follow a very specific written agenda. After 12 years of leading CRM and TeamsTEPPS implementations, LifeWings knows exactly what the leadership change team must do to make the culture change successful and sustainable. Not surprisingly, these steps are basically identical for any change initiative you are implementing - not just CRM or TeamSTEPPS.
2. Set a time limit for how long an item will be discussed. If time runs out, assign homework and put it on the Agenda for next time. Choose a time-keeper to keep the chairperson or meeting leader aware of the time remaining. People work better and more productively against a timeline. For example: "Joan, we have two minutes left to wrap up the discussion and make a decision."
3. Choose a quarterback. Someone must lead the meeting. This does not have to be the chairperson or the most senior person in the room. It should be someone who is fair, inclusive, and knows how to run a meeting.
4. Be clear on each agenda item whether discussing the item for informational purposes only, or to make a decision. If a decision must be made, be clear at the beginning of the discussion what decision must be made. For example: "We need to decide if this Policy revision is good as is, or
if we want to make changes to it."
5. Close the discussion and make the decision with scripted language.
For example: "Based on the discussion it sounds like we can do Option A, Option B, or Option C. What do you recommend and why?" Start with the most junior or inexperienced person in the room and work up. The chairperson should never announce their decision first.
6. Make and clearly announce the decision. "What we have decided about this issue is..."
7. Record "Who does what by when" to make the decision come to pass. These seven steps will revolutionize how things get done in your organization.Steve Harden, LifeWings CEO, believes that "if your staff go to any meeting about patient safety or quality and say nothing, it would have been better if they hadn't gone at all. If staff don't engage in meetings and never look what the organization does better, they're not being negative, but the lack of initiative they demonstrate costs the entire organization, because they're using a slot that could have been filled
by someone who would have added more value.
It's tempting for employees to work quietly, comply, and rationalize that at least they're not doing anything negative to hurt patients. But the opportunity cost to a hospital that must compete in a new world of safety data transparency, and an ever more dangerous world of high-tech medicine complexity, is significant. This system of conducting meetings forces staff to mindfully engage during meetings in a productive way.
This method is used at LifeWings to run staff meetings. Typically there are 40 agenda items covered in a weekly staff meeting, and a two-minute debrief of how the meeting went, and yet meetings rarely last longer than 35 minutes. LifeWings has trained over 100 organizations to use this method of communication and teamwork. The mission of LifeWings is to do all that they can to enable health care professionals to provide the safest possible care, every single day.
Learn more about LifeWings by visiting their website: saferpatients.com and review our clients, results, and upcoming events by visiting our Facebook page or following them on Twitter (@SaferPatients).
About LIfeWings LLC:
LifeWings Partners is the industry leader in using aviation safety, leadership, team building, and human factors tools to reduce patient-harming medical errors and improve safety and quality. Over 100 health care organizations have implemented. Learn more about what LifeWings can do you for your organization by visiting http://www.saferpatients.com.