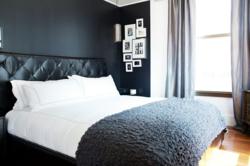 New York, NY (PRWEB) February 05, 2013
As freezing temperatures sweep through New York City, Duane Street Hotel once again opens its doors to keep beauty and fashion bloggers writing in warmth, as part of New York Fashion Week with the second Duane Street Hotel Bloggers Lounge.
The Blogger's Lounge takes place February 7 – 10 and provides writers with a space to work, hold meetings and attend presentations by industry insiders. This year's Lounge features premier event partner Per-fékt Beauty, who will be on-site February 9 and 10 to give beauty consultations and new product demonstrations. Per-fékt Beauty creates beauty products that combine makeup and skincare to perfect and enhance the skin — ideal for on-the-go bloggers.
"We're thrilled to host our second Bloggers Lounge – especially with all of the newest reasons to stop by, including the pop-up store in one of our newly renovated guestrooms," said Nicolas Daeppen, Duane Street Hotel general manager. "This season, the lounge has morphed into a dynamic event that really embraces those in beauty and fashion. Our partners Per-fékt Beauty, Kembrel and Evian have really helped bring this vision to life."
Attendees of the Lounge can shop at the pop-up store just above the lounge, featuring Kembrel, a Philadelphia-based fashion e-commerce turned brick and mortar boutique that offers womenswear, menswear and accessories. The store operates from 10:00 a.m. – 6:00 p.m. and is open for the duration of the Lounge. Kembrel enjoys a loyal cult following among stylish twentysomethings for men's and women's clothing that reflects a forward-thinking aesthetic and is altogether accessible, modern and downtown chic.
Other perks for attendees include: a giftbag of goodies from Per-fékt Beauty and Kembrel. Renowned Chef Jehangir Mehta, a contender on Food Network's "The Next Iron Chef," is offering an a la carte menu of light treats for bloggers to order. Mehta owns the much-loved Graffiti in the East Village and operates Mehtaphor, located within Duane Street Hotel.
Admittance is complimentary for all attendees. The Bloggers Lounge is open 11:00 a.m. to 4:00 p.m. daily from February 7 until February 10. The Lounge is open to the public, but RSVP is requested. RSVPs should be sent to: events(at)independentcollection(dot)com.
ABOUT:
Old New York meets European sensibility at Duane Street Hotel, a charming 45-room boutique Tribeca hotel which embodies all that is downtown New York – modern, stylish and undeniably fresh. The perfect place to return to after days and nights of exploring Tribeca's storied streets, you will enjoy relaxed comforts in a charming and stylish setting. From this peaceful reprieve, thoughtful services and amenities make each stay comfortable and convenient.
Duane Street Hotel is owned by Hersha Hospitality Trust (NYSE: HT) and managed by HHM. HHM currently operates 115 branded and independent hotels in the nation's leading markets. The company provides turnkey hotel management and asset management for properties with leading brand affiliations and the company's newly launched Independent Collection of which Duane Street Hotel is a member.
The Independent Collection is a growing collection of smaller, more intimate boutique lifestyle hotels located in truly unique neighborhoods of gateway cities across the U.S. The hotels of the Independent Collection are developed for the independently minded traveler and invite guests to experience the true spirit of the city.
Per-fékt Beauty:
Per-fékt Beauty, Inc., the beauty company based in Hollywood, CA, merges advanced skincare formulations with color to offer multi-functional, long-lasting products that are quick and easy to apply. Per-fékt has created a new category in beauty named perfector, which encompasses cosmetics designed to perfect and enhance the skin instead of covering up like traditional makeup. Per-fékt's innovative color + treatment hybrid formulations for face, body, lips, eyes, lashes, and brows, provide the most modern alternative to traditional beauty products.
Kembrel:
Recently featured in the New York Times 36 Hours in Philadelphia feature, Kembrel tightly integrates old-timey, personal boutique shopping with the convenience and attainability of shopping online. Each week, customers discover unique merchandise for men and women from local, indie and niche designers, alongside established classic brands. Discover designer stories and enjoy complementary style advice from our team at three locations in Philadelphia. Shop online anytime at http://www.kembrel.com.
For further information, please contact Duane Street Hotel at 212.964.4600 http://www.duanestreethotel.com
For all press inquiries, please contact Erin Branche at erin.branche(at)hhmlp(dot)com or 267.238.5038.
###