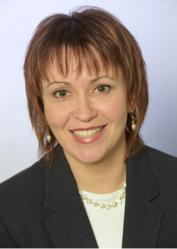 "I'm fortunate to be in such a fascinating industry that allows me to turn my vision and perspective into enjoyable contents on multiple platforms."
Los Angeles, CA (PRWEB) February 05, 2013
Michele Martell, Chief Operating Officer at SD Entertainment, a leading Los Angeles based animation and 3D production studio, has been selected as a Finalist for the Women in Toys (WIT) 9th Annual Wonder Women in Toys, Licensing & Entertainment Award, in the Licensing and Entertainment category. The WIT event recognizes and celebrates the remarkable business leaders, tireless innovators and other women who have made a lasting impression on Toys, Licensing and Entertainment with their passion and vision. The winner will be announced on Sunday February 10, 2013 in New York City, which coincides with the opening day of the International Toy Fair.
Michele has been a longtime trailblazer at the intersection of entertainment and technology, and a pioneer in s creating and distributing compelling transmedia entertainment and innovative consumer experiences to multiple screens. Michele brings a unique perspective to the entertainment business and has kept SD on the forefront of the quickly changing kids' entertainment landscape.
"With her great instincts, exceptional intelligence and creativity, Michele has successfully brought entertainment to kids through various platforms," said Jonathan Dern, CEO of SD Entertainment. "We are so proud to have her on our team—she truly is a remarkable leader in the entertainment industry."
"It's an honor to be nominated for this WIT Wonder Woman Award in Licensing & Entertainment, and to be surrounded by so many talented women in the industry," said Michele Martell. "I'm fortunate to be in such a fascinating industry that allows me to turn my vision and perspective into enjoyable contents on multiple platforms."
Under her leadership, SD Entertainment has been internationally recognized for their success in producing entertainment for beloved brands such as Bob the Builder, including the 3D/4D Bob the Builder Ride at Legoland, Angelina Ballerina, My Little Pony, Care Bears and Transformers. She also knows how to predict and jump on industry trends. As more and more families discover the appeal of tablets and e-readers, Michele has helped shift SD's strategy to develop dynamic enhanced content to capture and monetize entertainment for an interactive e-reading experience, with the potential development of companion film and television series, further solidifying SD Entertainment's position as a studio of the future.
An entrepreneurial executive, Michele launched and managed the long running family theatrical matinee program, Kidtoon Films, which brings monthly G-rated entertainment to hundreds of digital big screens across North America. Prior to joining SD Entertainment, Michele was VP Business Affairs and Business Development at The Jim Henson Company, connecting Henson's franchise properties to consumers via interactive toys & games, as well as patenting the Henson company's revolutionary real-time digital puppeteering system.
Michele is also the co-founder of leading digital theatrical distribution and marketing company, the Cinedigm Entertainment Group, and its predecessor, The Bigger Picture. As COO of the Cinedigm Entertainment Group, Michele was responsible for establishing partnerships for the creation, distribution, marketing and exploitation of more than 200 pieces of entertainment through digital cinema worldwide. During her tenure, CEG pioneered LIVE 3D cinecasts of major sporting and music events, innovated big screen gaming programs, developed audience-centric marketing channels and helped owners of content reach their fans on every screen.
Attended by hundreds of executives, WIT has grown the Wonder Women Dinner into a coveted annual event for women and men who are the super heroes of the industry. Each year, more than twenty women are nominated in categories that include Licensing or Entertainment, Designer or Inventor, Manufacturer, Marketing or Branding, PR or Social Media, Rising Star, Sales, Socially Responsible, and Retailer. The Women in Toy Foundation also recognizes outstanding young women with futures in toy design with Scholarships distributed at the Awards Dinner.
About Women In Toys
The Mission of Women in Toys is to provide a professional networking base for women working within the Toy, Licensing and Entertainment Industries and to acknowledge and promote the achievements of these women. WIT provides resources and information to empower both women and men in our industries. WIT, founded in 1991, has chapters in the United States, Canada, China, Australia, Germany, Greece, Israel, The Netherlands, Scandinavia, Spain and the United Kingdom.
About SD Entertainment
Sabella Dern Entertainment is a property development studio specializing in producing and distributing branded 3D entertainment that connects with audiences and consumers on every screen, from theatrical screens to smart phones, which recently became the exclusive 3D production partner with Stageside Productions/ACL Live at The Moody Theatre in Austin, TX – the world's first permanent 3D production venue. SD has also produced television series and movies with an extensive roster of global IP holders and partners. SD and its principals founded the innovative digital distribution company, The Bigger Picture and its family theatrical matinee program, Kidtoon Films, releasing more than 200 alternative content events and indie films in five years, as well as the first ever LIVE 3D cinecasts with the BCS College Championship Game and the NBA All Star Saturday Night in 2009, the NCAA Men's Final Four games and the FIFA World Cup Final in 2010, and the Ultimate Fighting Championship in February 2012. In partnership with award-winning 3D producer/director Wayne Miller, SD executive produced the ground-breaking 3D capture of eighty hours of content from five live music festivals including the world famous Lollapalooza, culminating in the theatrical release of "Larger Than Life 3D" and "Phish 3D." For more information visit http://www.sdentertainment.com
To purchase tickets to the Wonder Woman Awards Dinner on Sunday, February 10, 2013, or to purchase a Tribute Ad go to http://www.womenintoys.com.
Media Contact:
Genna Rosenberg
GennComm for SD Entertainment & Women in Toys
T: 818-839-1461 E: Genna(at)GennComm(dot)com