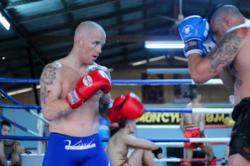 "Now it is time to head back home to Maryland and get ready for the next one."

- Jon Delbrugge
(PRWEB) February 04, 2013
Former Operation Octagon Amateur Lightweight Champion, Jon Delbrugge, has recently signed with Cage Fury Fighting Championship (CFFC). CFFC is an East Coast organization with some of the top up-and-comers in the MMA scene. On Saturday, February 2, Delbrugge faced Maykon Santos at the Borgata Hotel & Casino in Atlantic City, NJ. This would be the second professional fight of his career. Jon had brought more than 100 fans to come out and support him for his first fight with the organization.
This fight was set for three, 5-minute rounds and was the sixth fight out of the total 14 fights on the card. The fight stopped half way into the second round when Delbrugge forced Santos to turn to his knees from the ground and Delbrugge was able to apply the choke for the finish.
Delbrugge has advanced to a professional record of 2-0 and is now looking forward to his next fight. After the fight, Delbrugge commented, "Going into this fight I had spent a few weeks in Thailand to work on my Muay Thai skills. I was able to land some combinations that I had been working on previously, in addition to some grappling that has been a part of my game for a while now. Now it is time to head back home to Maryland and get ready for the next one. Thank you to all my teammates, family, and friends for all of your support."
Jon is currently an instructor at Crazy 88 Brazilian Jiu-Jitsu located in Elkridge, MD where he also trains full time. For more information about Jon Delbrugge and his training be sure to visit http://www.baltimoremixedmartialarts.com.